I had just pulled in Juniper Campground at Theodore Roosevelt National Park, selected s site, and walked with Penny back to register. Coming back I met a couple of birders from Minnesota who were just starting out on a short walk themselves. As I walked into my campsite, two birds flew in low, perched and then flew back into the underbrush. One had a lot of blue so I called to the birders and they joined me. I had one in the binoculars, was trying to sort it out, when Penny yanked at her leash, and I lost the bird. Meanwhile, we were joined by an experienced friend of theirs and the three of us studied the female. Combining our observations, we decided we had seen two Lazuli Buntings. A life bird but not as well-seen as I would have liked. Well, I fixed that the next morning when I saw several more and got this photo of one feeding.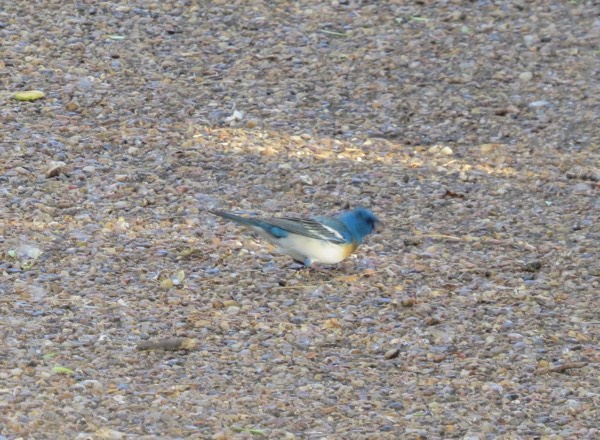 That next morning was a great outing – just dozens of birds singing and cavorting. I found these two Northern Flickers doing some sort of courtship routine, stretching their necks up into the air, one after the other.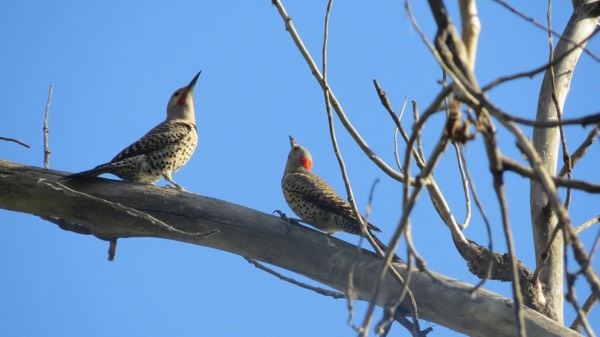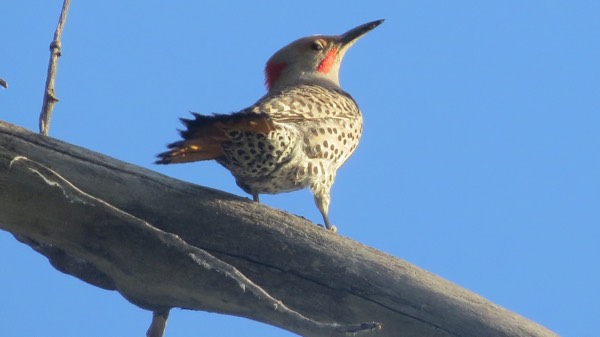 I then heard, then saw two Western Kingbirds gathering food for their brood. I thought I had already logged these but no, it was also a lifer. (There are many Eastern Kingbirds out here- their range is nearly 2/3's of the country.)
Then I saw a guy, a Common Nighthawk, sleeping right out in the open. I had seen him or a buddy flying overhead the night before and I left him undid turned to get some beauty sleep.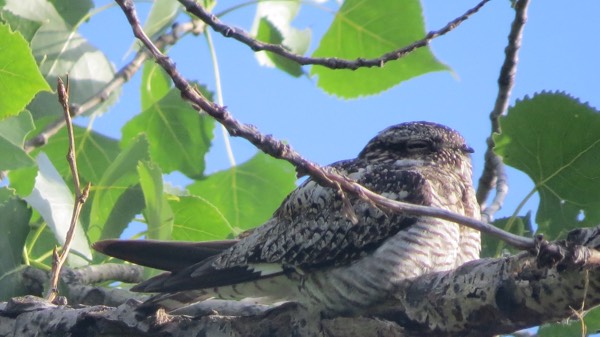 There are still many calls that I can't sort out – but that's part of learning. I continue to be entranced by the repertoire of the Western Meadowlark. What a happy bird – just what I need from time to time.