I spotted a flash of grey as I drove up over the levee to the County Park this morning. I had already counted four American Kestrels on the short road in and pulling over, I saw a Grey Hawk sitting in the trees. They are a specialty of the lower Rio Grande but I'd only seen a couple over the years so this was a treat – and a nice omen to the early morning outing.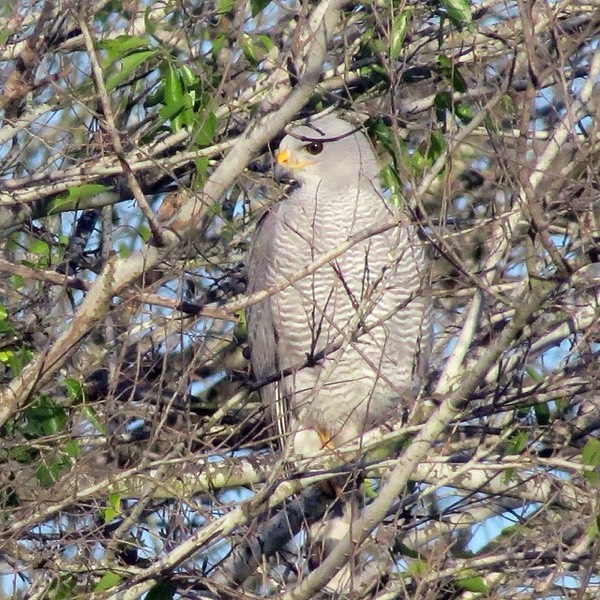 I walked Penny on leash for two hours plus and picked up 33 species, including 10 I haven't seen in the County this year. The other highlights were a Black Phoebe, two Couch's Kingbirds, several Vermillion Flycatchers, and a dozen House Finches (which are rare in this area.)
It was a nice contrast to some chasing I've been doing of a rarity spotted last Saturday – a Grey-capped Yellowthroat. I just missed it by 15 to 20 minutes on two different days and spent quite a few hours, side-by-side with other birders, looking for it. It was neat to watch the people – folks with cameras so large that they use baby jogger trailers to transport them. The lack of success was a bit disappointing but it's also a lesson in "being at the right place at the right time." I've moved on – even if it gets sighted again.
Two days ago, after shopping I took Penny to a wildlife area to which I had never been and the first thing we spotted was this pair of Crested CaraCara – sometimes known a the Mexican Eagle. The habitat, on the edge of County, was more desert-like and I saw Verdin, Black-throated Sparrows, and Pyrrhuloxia.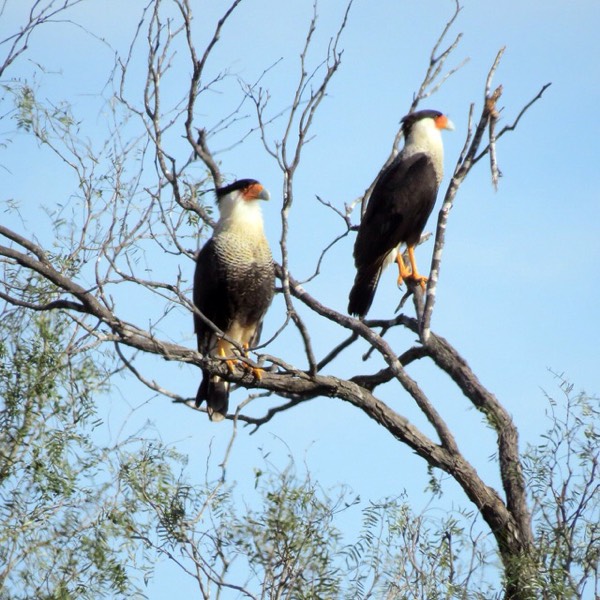 I am waiting for better internet service before adding a number of nice photos of birds I've seen. The weather has been good (as we monitored the Blizzard) and all in all, we like this area. Good birds but too many people. Lots of wonderful birders including our own Chris and Fred Pratt, who everyone seems to know, but with whom our paths have not crossed. Make sure you read this great post by Ken Benton to get a sense of the "madness" of birders. It captures the spirit and enthusiasm of the North Branch Nature Center Staff. Good Birding.