Our excursion with the Airstream to the Catskills to see some dear friends didn't start well. Not only did I drain the truck battery by leaving the ignition on all day (a last-minute run to put up windows before a rain squall, and then forgetfulness) but then, after getting the battery going, I ran into problems again with the tongue jack. I had the Airstream about halfway up to slide over the hitch ball when the whole system died — and all the banging, twisting tricks I had used in the past did nothing.
I used a socket wrench to manually lift the rig — not a tough project but time-consuming and sweat-producing, and got the trailer elevated enough to install the weight-distribution bars, and then lowered things and we were ready to go in the morning. I put a trickle charger on the truck battery and did not look forward to a trip of manual jacking to unhitch and hitch.
I fired off an email to the manufacturer, running through the history I've had of intermittent operation and asking for advice, figuring hopefully I would hear back next week.
Friday morning was a beautiful day to travel. Vermont's scenery was lush and green and the alto-cumulus clouds and unlimited visibility promised great weather ahead. We go down through Rutland, over to New York state and pick up the Northway south of Lake George. It was easy cruising until we came to a dead halt in a tough traffic jam at the intersection of NY 149 and Route 9 – where there is a dismal strip of high-end outlet stores. I had forgotten that it was a Friday in mid-summer and half the world would be there looking for "bargains." We sat, crawled, stewed, and finally chilled with air-conditioning for a half-hour or more but finally we were on our way south to Albany.
Our friends live in a small community called Bovina Center. It is about 1.5 hours from Albany and three hours or so from New York city, so there are lots of "city people" buying up old homes and farms — but the area is still very agricultural and lovely. The roads are winding, many of them red dirt, and some of the hills are a test for the Ford F-150's ecoboost engine.
Our friend Jim grew up in Bovina and has a brother, cousins, and a host of family and friends scattered throughout the town. He and his wife, Peg, moved back after retirement and they now have  most of their immediate family within a stone's throw. Their daughter and family are next door, a son lives another door down, and their other son and his spouse live a short drive away.
There's a neat spot out behind their houses to park the Airstream. They run an electrical line out and it's quiet, shady during the day, and a perfect place to stay.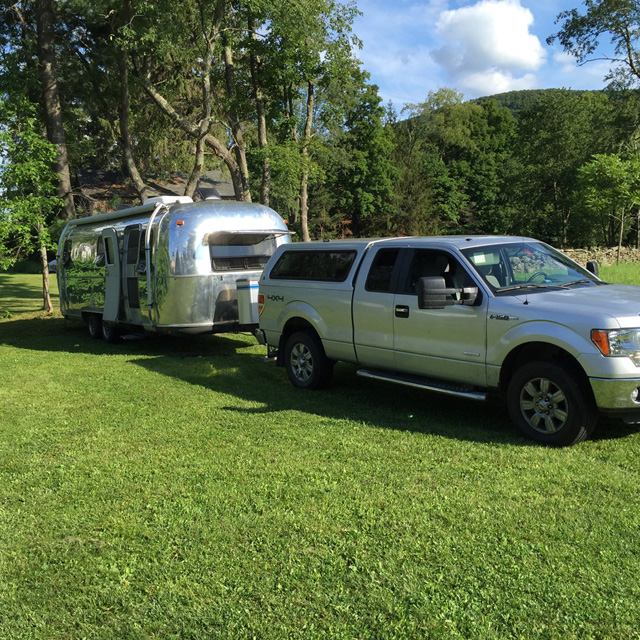 I'm sitting in the shade out by a tributary of the Delaware River as I write this. I can see a Belted Kingfisher on a branch near me, shaking out his feathers after a dive, and here's the view back toward the trailer.
Now, back the Airstream jack issues. When we stopped for lunch enroute, I saw an email back from Randy, the technician from the manufacturer. He told me that based on my description, he thought we had an electrical grounding or connectivity problem and outlined a number of things to do to try to correct things. When we got to Bovina, I decided to work on it before manually operating the jack. I tightened up the jack's bolt connections, checked the fuse again, and then looked at the leads to the fuse. The connections had some green corrosion on them. I fished through Mary's purse for an emory board and smoothed off both leads, replaced the fuse whose ends I also polished, and sure enough there was power to the lift. I used it to get set up, wrote a quick email of thanks to Randy, and went on to enjoying the weekend.
The next morning, while taking Penny for a walk, I took some photos of downtown Bovina.
This is one of those trips that you want to do, but if you put off too long, the summer is over and schedules are crazy again. We've done some birding (not bad for mid-summer), some local sightseeing, attended a benefit concert, and gone to the local church (whose congregation and services we love.) This is a special time of year at a special place and a good Airstream trip to see good friends. I hope that your summer goes well.