One of my 2014 birding goals was to reach 400 life birds – in my fifth year of birding. I saw two Black-tailed Gnatcatchers as I checked into the Salton Sea State Receation Area last weekend (for 398).
The following morning I birded the Wister Unit about 25 miles south and after a great session birding from the truck crawling along managed wetlands, I came right up to a large hawk, who peered at me through the open window about 20 feet away. (Fortunately, the dog was napping in the back seat.). I got my binoculars up slowly, studied the large bill, the feathery legs, and after about a minute, the hawk shook out his feathers, took a dump, and slowly flew away. It was my first Ferruginous Hawk and an "up close and personal" encounter for number 399.
So for several days, I've been wondering what number 400 might be. We have been back at Gilbert Ray County Park in Tuscon and while I have had some good outings, the birding has been rather slow. I figured that perhaps in the week ahead in New Mexico, I'd get lucky.
This morning, I walked Penny just at sunrise since we had a long drive to Las Cruces ahead of us. I had my binoculars but no camera as we circled the camp loop. I spotted a hummingbird, the first I had seen there, and thought, "Another Anna's." When I got my glasses on him, it was a spectacular Costa's Hummingbird. I got some good looks but then he was gone. The trailer was close by so I dropped off the dog after feeding her, and grabbed my camera. Of course, he was not there – and so I started packing the truck. I went back and found him perched, in bad light, in a far off tree. The shots I got don't capture the irridescent gorget and crown – but I saw them in the sunlight and they were spectacular. The photos do capture the pot-bellied shape.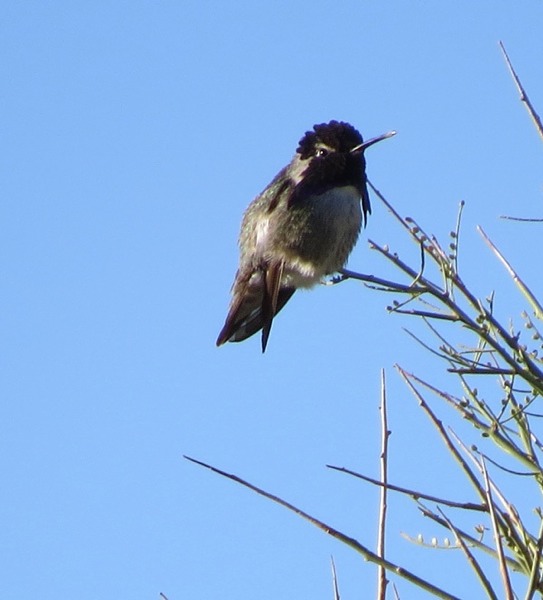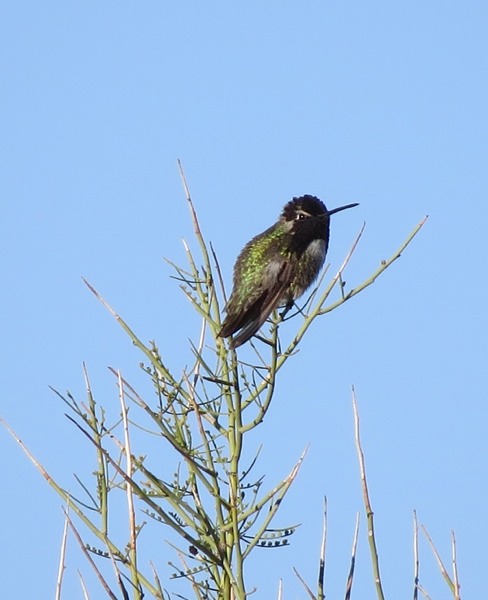 What a neat #400. I got it just as we were leaving its range so it literally was the last chance. The morning encounter made the long trek across Arizona and New Mexico desert much more enjoyable and we are settled into a nice New Mexico state campgound.