I have walked, skied, and biked rail trails around the East and have to say that the West River one is the best I've seen. It's scenic, very burst, and remote so I can let my anti-social (re dogs) Vizsla off-leash and not be bothered by hordes of joggers, cyclists, or dog-walkers.
We took a walk Friday afternoon and I was struck by the quiet. No road noise – nothing but the river and birds. This morning, we went out early and needed a jacket and gloves, which were in the van, but I was too lazy to turn around. I had set up the "Springer" attachment which allows Penny to jog alongside the bike. We use that in the park.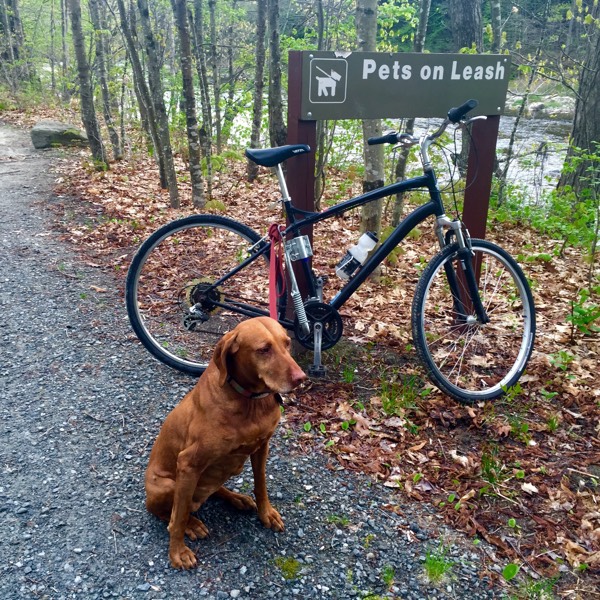 The rail trail goes right through the campground. We start at the southern section and head a few miles toward the big Ball Mountain dam.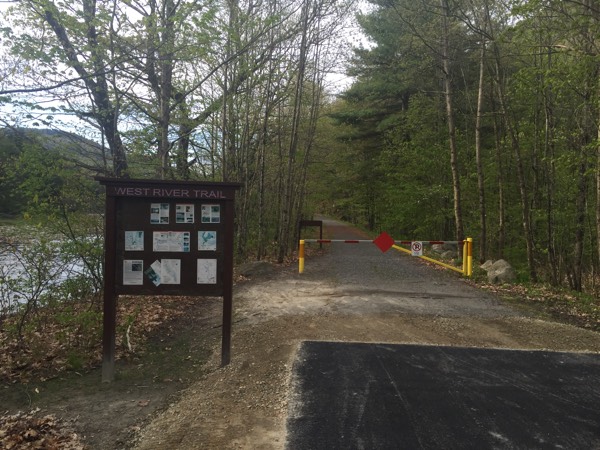 It's easy, when traveling along the trail, to visualize the small trains that once plied this 33-mile route. Lots of ledge cuts, stream crossings, and river crossing (which are mainly abutments.)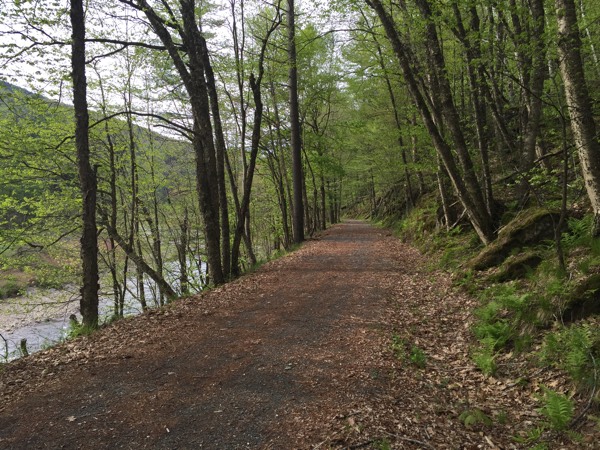 The bird calls were amazing. Of course the Veery and the Hermit Thrush are among my favorites but I also saw a dozen or more Ovenbirds. They are usually tough to spot in spite of their constant singing but these were on the path, in the low branches, just not worried about this guy and his dog. I am not carrying my camera since I don't have my laptop with me so that's why I haven't posted bird photos.
Penny is 12 and moving pretty well but I don't want to over-tax her so we stopped at where the railroad crossed the river. She enjoyed checking the place out and I enjoyed the view, spotting a couple of Common Mergansers downriver.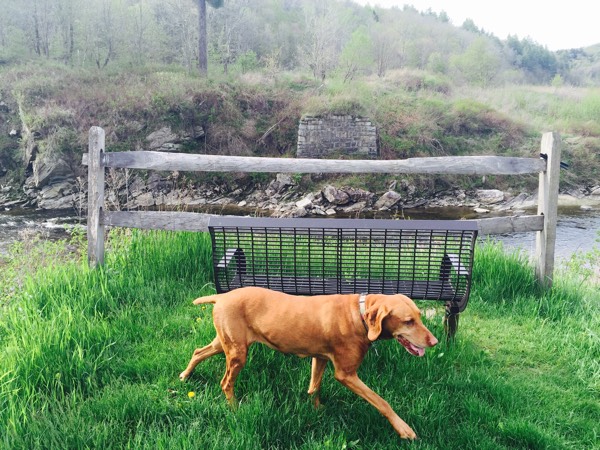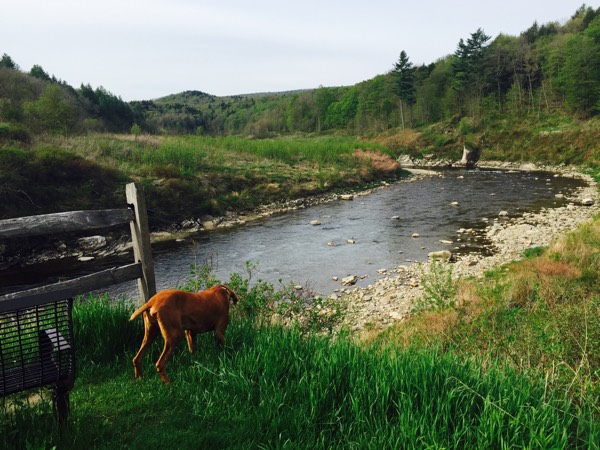 The trail continues, less bike-friendly, down toward the flood control dam. We turned around and ended up with a two hour outing with about 35 bird species. We earned the bacon and pancakes with maple syrup that I cooked outside after our return.
This campground is the last place where Mary and I camped – we had a lovely time last fall. Saturday marked the two-month anniversary of her death so the walks, bike rides, even the black flies that loved her and ignored me, are gentle reminders. One advantage of knowing most bird calls is that you can bird with tears in your eyes.