My brother and his spouse, who sort of got us into Airstreams through their tales of adventures in the South and Southwest, now have purchased an older model Class B (van) Airstream called the B190.  Here's a shot of one, not theirs.
Barry and Mica love their rig for it's compactness and how they, being free of towing their Airstream trailer, can get into smaller sites and navigate the roads of New England and Atlantic Canada more easily. They are considering leaving their towed rig home this winter and taking the 190 out West.
So, it got me thinking. I should note that virtually every spring, I start considering options: a newer trailer (cost doesn't justify getting the same features we now have), longer rig, perhaps with a slide out (have trouble getting our 25-foot unit up our driveway and parked — and would likely need a new tow vehicle), or even an Airstream motorhome.
I have been intrigued with the Airstream Interstates, built on a Sprinter van body, with their diesel power and easy of maneuvering. Their price, now about $150K new, is outside our pay grade but there are some older units that are a little more reasonable. I knew they were tight on space, being a 23 to 24 foot unit, but decided to do some more research. For about three days I was psyched to sell our rig and truck and go for it.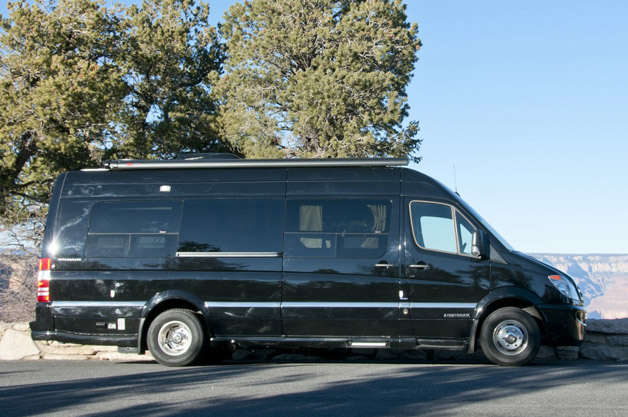 Then I looked at bed lengths. We need twin beds, which are available but rather scarce. The beds appeared to be 74 inches long — and I'm 73 inches long. I then started looking at specs for Class B+ rigs, which add a bit of width to the Sprinter van and sort of quickly morph into Class C's. Many of the major brands have these options but many are new and quite expensive. I also am not to keen on driving down the road with swirls and other graphics on the rig.
As I do when I get on a project, I joined several Facebook groups/pages and also some Class B forums. I saw discussions of what kind of car to tow (sort of defeats the "freeing up" of a Class B), how to hang tool boxes and bikes off the back, and many issues with some of the equipment, especially the macerator for waste water.
So for several days I was looking hard online for options – running the numbers and finding that we could do it financially but not easily and then one morning last week, I woke up and the flirtation was over — the old Airstream down by the pine trees looked mighty fine. The beds are long enough, there's plenty of storage with the truck cap, we know where the "warts" are, and the rig and tow vehicle are paid for. Rather than fix things up so that I can sell it, I'll fix things up so that we can enjoy it. And we won't have to leave a hose and a "This site is occupied" sign every time we leave a campground to go birding.