For the last several days, the MASSBIRDS listserve has had numerous reports of a White-fronted Goose spotted in a large group of Canada Geese on nearby Artichoke Reservoir.  Someone also reported a Pink-footed Goose at the same location.  So, I was thinking about skipping church yesterday but decided to attend and visit the reservoir afterward. Big mistake as it turned out.
I checked email after church and sure enough, two more reports reported the goose still in place so I was psyched.  After a coffee stop, I drove the several miles to the turn down Turkey Hill Lane, the road that runs along the reservoir.  I immediately encounted hundreds of plastic cups in the road and a few runners and thought, "Well, a local race must have just finished up."  Don't I wish.
Soon, there were more runners, and spectators, and before I knew it, I had come to an intersection where runners were streaming in from another section of the race — and a local policeman was holding up his hand to stop me, and I had six or eight cars behind me blocking any exit.  Here's the scene, which doesn't due justice to the number of people.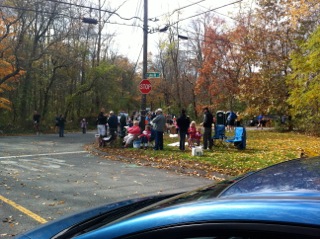 I talked to the cop who said we would just have to wait — and so I did, for about 20 minutes when finally I was able to turn around and backtrack.  I decided to approach the reservoir from the south so I drove down I-95 to the next exit and found Turkey Hill Lane and it was deserted.  I drove north for three or four miles and suddenly, a phalanx of runners came in from a side road and I was immersed in runners on the narrow road,  I could see the reservoir, and saw a gaggle of geese, but runners were in the middle of the road, on both sides, and I was also in a convoy of vehicles.  It felt like the Tour de France, albeit slower.  This was the back of the pack and runners were walking, taking photos of one another, and nearly all had headphones.  I crept ahead, with no other options, and pretty soon, an old tractor joined the procession.  I came to an intersection clogged with runners, and who should I see but my policeman friend, vainly trying to sort things out.  I snuck by, headed out and home, thinking that this was not my day.  I'd got tangled up with a big half-marathon with over 2000 runners.  I think I'll try for the goose today when the roads should be calm and birder-friendly.