by GERRY COOPERMAN
We landed in Anchorage and guess what – no cars. Maybe because we didn't create a fuss because we had come to expect these incidents and as if by magic four cars suddenly were available. We make it to Motel 6, have a well deserved dinner and  get a good night's sleep for tomorrow it's on the road to Denali.
North on Rte. 1 to Rte. 3 the four Subaru wagons head out on our final adventure. And we are on paved roads at last. Once outside the city limits the scenery changes rapidly. From an urban setting to wilderness is rapid indeed and I hope that urban sprawl has not overtaken this land in the last 24 years.
Denali (Mt. McKinley) means big one – an apt description. Rising 20,300 feet into the clouds it is the highest point in North America and stands guard over its domain. We were fortunate in our stay to have sunny skies so Denali was utterly breathtaking.
We stop at a shimmering lake as two Trumpeter Swans provide a genteel and serene moment. Cruising back and forth they swim as one; a study of beauty and grace. Like two dancers performing nature's ballet. This picture is securely tucked away in my memory of the Alaskan experience.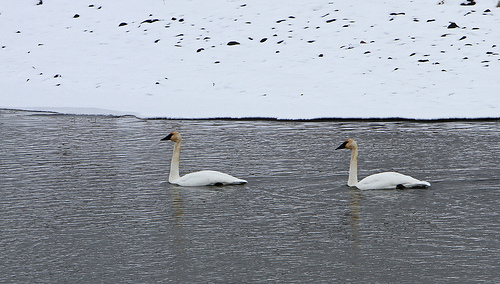 Two Trumpeter Swans provided us an unforgettable ballet memory. photo byYellowstoneNPS
Up the Parks Highway with Hawk Owl as our first objective. We weren't successful but did find many "Evergreen Hawk Owls" , a hitherto unreported species, more then I care to remember. Eventually we found the real species and boy did we work for it.
We got to the park, purchased our tickets for tomorrow and took a ride out to Savage River. This is as far as you can go by car and gave us a glimpse of tomorrow. We had a herd of Dall Sheep come down to welcome us to their park.  We had two objectives for tomorrow and mapped out our strategy. We would be on school buses into the park and solicited good information regarding our targets. The point we would meet at was Marmot Rock taking the shuttle bus in two sections. We had a 6:30 AM bus to catch at the headquarters. Not a problem if someone else had been driving because I took my dumb decision-making pill that morning.
We left the motel with time to spare and as car four I was the last in line. On the way, our car and nobody else's was stopped for the movement of construction equipment. As the minutes ticked away my common sense was disappearing as well and finally I could go. Off I went with a determination that blocked out intelligence as I sped right by the headquarters road. My passengers tactfully mentioned that we seemed to be driving longer than the practice run yesterday. No problem I said and then saw a mile marker that told me I missed the road. In the finest Boston tradition a U-turn on the highway was executed and I sped back. I pulled in an let my passengers off, parked the car and enjoyed the 200 yard dash with scope and backpack. We made it.
We were at Marmot Rock and began to spread out looking for our target. One of the group spotted a Gyrfalcon perched on a rock pinnacle. Then we discovered two , no three more. A family of Gyrs. Our excitement level was high. Then we found the Northern Wheatear foraging on the rocky hillside. That was the end of the birds so our attention switched to mammals. Moose, grizzly bear,and Dall sheep all had young they were tending to. Tomorrow's stars of this wondrous place. Caribou, porcupines, marmots, and red foxes added to the menagerie. I especially enjoyed the fox as he nonchalantly strolled alongside the bus. A striking white-tipped tail on an otherwise rusty coloration. Then suddenly he pounced on something alongside the road. The kill was made and so continued the rhythm of life and death in Mother Nature's realm.
The following day four of us decided to relocate the Gyrfalcon family. We found them quickly and scoped them for some time as they played. Soaring effortlessly then wheeling and turning knifing through the air with power and grace. Then play time was over and the young ones perched on a rock while the female began her hunt passing low over the terrain. The juveniles were watched over by the male and then they decide it was time to leave and off they went. Time to move on and get on a bus. We started walking and talking about our good fortune and little did we know the real excitement was about to begin.
As we were walking up the road we noticed the male high and off to our right. He suddenly banked and was in front headed our way. He then languidly flew over us inspecting these intruders on his land inspecting the trespassers and up he went behind a ridge. As he flew higher we then noticed the female had joined him. Then it happened. From out of nowhere a Golden Eagle was flying between the ridges. The two Gyrs rose as one and the male peeled off and headed for the eagle. With talons balled into a fist he hit the eagle like a lightning bolt. The eagle rolled right and in a split second the female now dove at the eagle's head. Then a second eagle appeared and all they were trying to do now was escape. Flying as fast as their wings would allow.
Safe from intruders the Gyrs rose together as one. Masters of the sky, protectors of their domain. As a parting goodbye the female peeled off and repeated the male's action by slowly flying over us not 10 feet above our heads. We had become accepted intruders this day in Polychrome Pass. Collectively we let out one gasp of breathless exhilaration. We had witnessed something that very few ever get to see. How fortunate we were indeed. This was our last day in Denali and what a day it was.
The Northern Three Toed Woodpecker breeds in North America, from northern Alaska, across Canada's boreal regions, through northern Saskatchewan, to north-central Labrador and Newfoundland. In Eurasia, south of tree line in Scandinavia and Siberia. Prefers coniferous forest and burntlands; less frequently mixed forest. Cavity nests generally placed in dead tree, usually conifer or aspen; sometimes nests in utility poles. photo by Superior National Forest
The next day was overcast and with intermittent showers. We stopped at Carlo Creek birding in the mist and after an hour found our quarry: a Northern-three-toed Woodpecker, the quiet tapping denizen of the spruce woods. Seeing this bird made the day shine like the yellow crown that adorned his head. And on this note, our intrepid band of birders ended their Alaskan Adventure.