THE PRIBILOFS
Our assault of the Pribilofs started as always with the plane ride. The incessant drone of the Lockheed L-188 four prop was a soothing sleep inducer. Mind you I didn't need much inducing. I awoke to a gray overcast sky and realized that making a landing would be difficult at best. And guess what? With the pilot today it was impossible to say the least. We made three tries. The first time he got the wheels down but too far down  the runway so it was a touch and go landing. We had been flying for 2 1/2 hours and now had to head to Cold Bay in the Aleutians to refuel.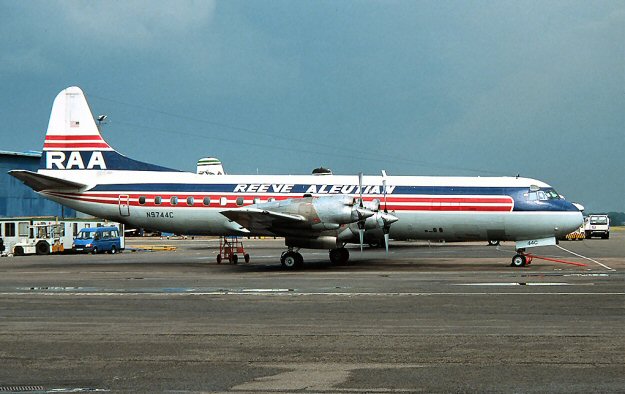 The incessant drone of the Lockheed L-188 four prop was a soothing sleep inducer – until landing time!
Back again to try and land. The second time was a no go from the start. On the third pass the runway and plane were in two different places. So it was back to Anchorage and we lost an entire day.  Now Reeve Air says that they will take care of getting us hotel rooms for all of us. Why did I not believe them and sure enough we arrived with no rooms. To say the scene became ugly would be an understatement. The frustration of being so close to such a special place and not getting there was making us madder. Finally we got rooms all over Anchorage and would meet back at the airport tomorrow morning.
The plane was ready and as we boarded a stewardess from yesterday's flight greeted us and told us that the "Cowboy" is flying today and he always lands. Why wasn't he flying yesterday? We did get a break from yesterday's flight. One of the passengers was from the company that controls most of St. Paul and he made sure that we had the best bird guide waiting for us when we landed and a van for crazed birders only.
Not ten minutes out we stop at a pool and Wood Sandpiper and Rock Sandpiper welcome us to the island. Back in the van for the bird cliffs are just ahead. This is the moment we've all been waiting for and dreaming about. You can hear the noise and a smell the musky odor but you are not prepared for the sight that unfolds. Wheeling birds of all species are everywhere on the cliffs, in the air and underground nesting burrows. There has to be over one million birds.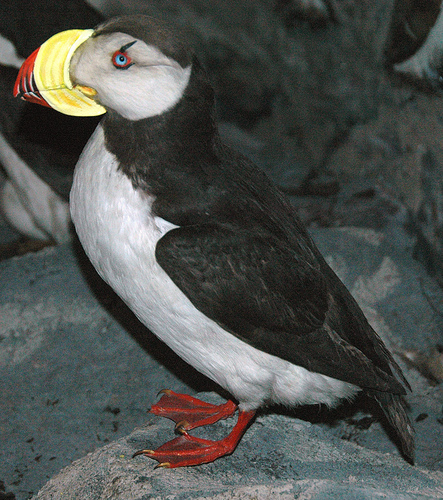 I had a Horned Puffin like this one, a Crested Auklet, a Least Auklet, and a Red-faced Cormorant in my scope at the same time. photo by jsj17771
I put my scope on the cliffs ahead and in view at the same time are Horned Puffin, Crested Auklet, Least Auklet, and Red-faced Cormorant. Flying around us almost at eye level are Parakeet Auklet, Tufted Puffin, Northern Fulmar, Red-legged Kittiwake,and Short-tailed Shearwater. At my feet flying into nest burrows are Common Murres. Swimming on the ocean are Steller's Eider and as we walk back a Gray-crowned Rosy Finch makes an appearance. All the while two  Arctic  Foxes are cavorting over the meadow watching us. We cast aside yesterday's frustrations, birds we'd seen in the days before, and just immersed ourselves in the unforgettable scene. I felt that I had become part of everything I saw and felt. It was magnificent.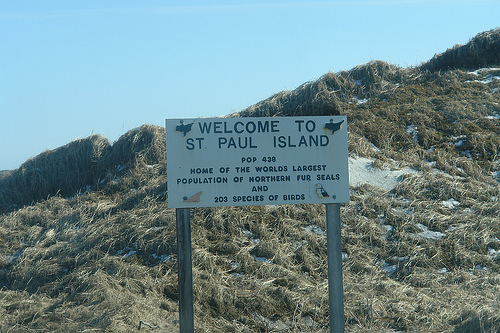 This volcanic rock in the midst of a hostile sea is a special place for birders. photo bymazaletel
We celebrated that night and again all the problems beforehand became distant memories. We had to leave tomorrow but being stuck here would not be that bad. So of course everything is perfect for flying. Clear skies no equipment issues and we leave this volcanic rock in the middle of a hostile sea. We gave thanks for the brief glimpse we all enjoyed.
Wheels up! On to Anchorage and Denali.