After a morning of 4 degrees and a forecast of a foot or more of snow, it is encouraging to see calendars of birding events popping up on local web sites.  I took three local groups and put their outings on a Google Calendar which you can visit here.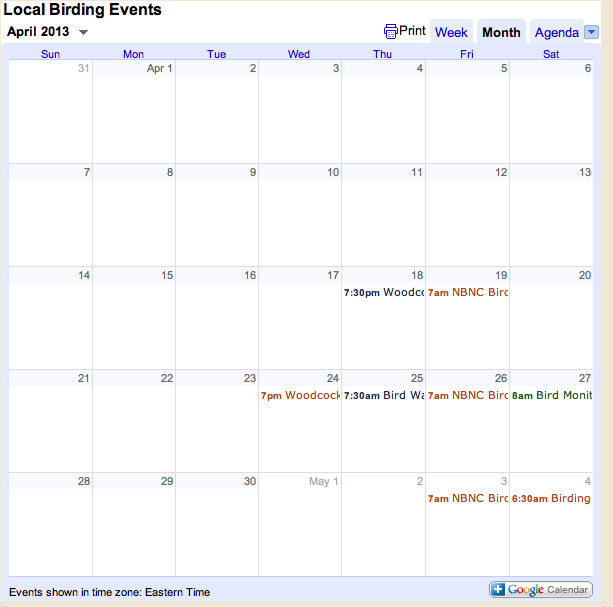 The North Branch Nature Center in Montpelier has a wonderful series of bird walks that are free to members ($25 single/$50 family) or for $10 for non-members.  Led by expert birders, they are low key and popular with skilled birders and beginners.  They are on Fridays and Saturdays in April/May.
The MadBirders club in the Mad River Valley is a collection of avid birders who have a great schedule of events, ranging from the Valley floor to the top of Mount Ellen.  The dues are only $15 a year for individuals/$20 for families, and they welcome newcomers.
Over in Huntington is the Birds of Vermont Museum, a must-see venue for any birder.  They have a bird monitoring walk on their property the last Saturday of each month.  The event is free but they ask that you pre-register by emailing museum@birdsofvermont.org or calling (802) 434-2167.
Are there other bird walks in April in Central Vermont that I've missed?  Mention them in the comment section and I'll add them to the calendar.  Good birding.