In conjunction with Great Backyard Bird Count, the wonderful app BirdLog is available for $.99 for a limited time.  I paid $9.99 and think it was worth every penny — you may recall I raved about it here.  How can you miss for less than a dollar?
BirdLog lets you tally birds as you move along on a birding outing and submit the report as soon as you are done.  In the frigid weather we've been having, I often wait until I get my fingers thawed out in the truck.  One thing I like is the easy way to put in a personal hotspot — if you have 3G, the GPS lists your location and you can just change the name to one that you like, and voila — it's ready for eBird.  I often go home and edit the eBird report, adding photos.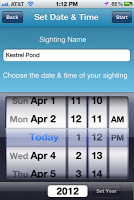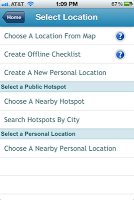 I use BirdLog on my iPhone but they have an Android version as well.  This offer lasts only until February 18th.  Check it out — it's quite a bargain.
Sign up by RSS feed or via email to have future articles sent to you.