Dear Mayor of the City of Laurel, Mississippi: "I'm sorry about the scrape marks and gouge my Airstream left on 32nd Avenue but you really need to make those gutter ditches a little shallower."
Yes, we had a little "issue" turning into the driveway of our friens, Jason and Kevin, when we stopped for brunch the other day. It was a narrow street and a deep rain gutter before the driveway and sure enough, I heard and felt the rear end scrape on the pavement as we made the turn. Our back bumper got adjusted a bit and now looks like this: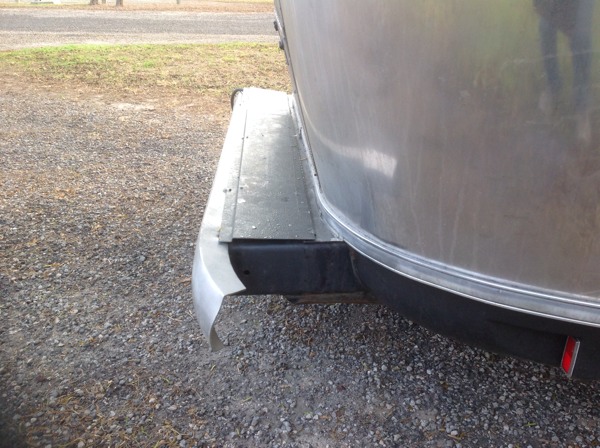 We had a wonderful meal, with no skimping on calories, and enjoyed seeing our dear friends. Then, it was off for Louisiana. I didn't dare back up and do more damage, so they offered to allow us to drive over the lawn, saying that it was pretty firm. Jason got some 2x8s to fill in the ditch where we would cross and aside from one tire spin (I should have used 4WD) the exit was easy. We did leave them a tire track to remember us by. And we have a souvenir as well, a nice splattering of southern clay, thrown up by the truck tires on to the Airstream.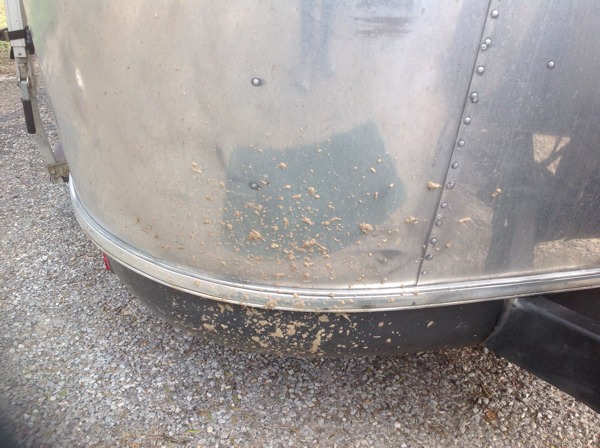 We are now in Texas, heading to Mission in the morning. It was nice to get off I-10 and through Houston. Temperature was 73 yesterday although the stiff wind made the wind chill about 55. Cooler today but nothing like our VT friends are enduring.