We have been perched just north of the Texas line for a week waiting out spring break. Today, we head into Texas and lose an hour right away as we cross into The Lone Star State.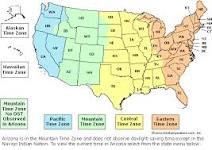 It's is fun to watch the time on the iPhone and iPad change as you cross the time zone line. Often, there's a road sign announcing the change and the devices will change right than, or miles later. Having had lots of practice, I can change the truck clock fast but wait until we are settled to change my watch and the several clocks we have in the trailer.
Moving by vehicle, the time transitions are easy compared with flying. We do note that moving from the eastern side of a zone, to the western side of the next is noticeable at both ends of the day – this morning it was light about 6:30 while tomorrow, it will be 7:30.
We are ready for some green scenery – cactus and sagebrush are getting rather boring. It's nice, as we think about our return, to know that we are just have one more time zone to go – even though we'll dawdle in Texas while we wait for the snow to melt in Vermont.
Postscript : We just endured one of the toughest nights of the trip, with stiff winds rocking the rig all night. Neighbors in a tent with kids had to abandon ship and move to a nearby RV and we expect a tough trip today. There is a wind advisory out for today as well. We have a short haul and will be travelling with a tailwind. These western winds have little to stop them – they are nasty – and dusty.