It started about eight-thirty one night over a week ago when a sharp knock on the Airstream door launched Penny into a barking frenzy. I got her leashed as I opened the door to two Canadian birder friends who were doing a Paul Revere imitation, spreading birding news. "Dick, did you hear about the rare Gray-crowned Yellowthroat discovered at Estero today?"
I not only had not heard about it, but had never heard of it. They filled me in a bit and then went on to notify other birders in the park. Here's what I read online the next morning:
Gray-crowned Yellowthroat is common shrubland species from northern Mexico throughout Middle America to Panama. It was formerly a breeding bird in the ABA Area, but more or less disappeared at the turn of the 20th Century. It's become somewhat regular in south Texas since 1988 or so, with a number of records scattered throughout the area. A pair of birds even attempted nesting in Cameron County in 2005, though at least one of them was likely a hybrid with Common Yellowthroat. The last record of this species in the ABA Area was in 2006.
With Mary watching the dog, I was off to Estero Llano Grande State Park, about 45 minutes away. There was a bird walk scheduled but I decided to look for the Yellowthroat and joined 20-30 others on a path soon to be called "the stakeout." We watched, pacing to and fro, for a couple of hours and seeing/hearing nothing, most of us decided to go on an informal walk with a couple of the park hosts. We saw a wide variety of birds ( the place is one of the top spots in the Valley) but returning, met a couple of guys with big smiles, who told us, "We saw it about 15 minutes after you left." Returning to the stakeout, we spent another hours seeing nothing but brush and tall grass. C'est la vie.
I took a day off for other stuff but returned two days later about 9:30 A.M. to the news, "Sue (one of the hosts) and some folks just saw it. Go get it." There were even more birders waiting, some napping, some reading, some chatting. It was like old home week, I saw a couple of folks I first met last year. And the photo gear – several had "baby joggers" to carry in their massive lens. All was for nought – I waited nearly three hours and the bird never showed again. I decided to forget it.
So every day for a week, I read eBird reports on morning sightings, as I went elsewhere for other birds or activities. Finally, I decided to try one more time. I left before daylight yesterday and was the first onr there. After an hour, three other birders showed up and wouldn't you know, walked right past the bird in the first ten minutes. The problem was, I was back on the path searching, just out of sight. One came back to let me know (which was very nice to do) but by the time I got there, nothing – except a nice picture they took. I watched for another half hour, getting pretty discouraged, thinking that I wasn't destined to see it.
More birders showed up and shortly, there was a yell (someone had heard it call) and as I got there, some people were seeing it in the grass but I couldn't. Looking through binoculars, just willing that bird to show up is hard work. But, one eagle-eyed gal from Illinois was caling out positions ans suddenly, it moved up the bush and we all had decent looks. My camera's autofocus went wild on the branches so the documentary shot I took was pretty sad.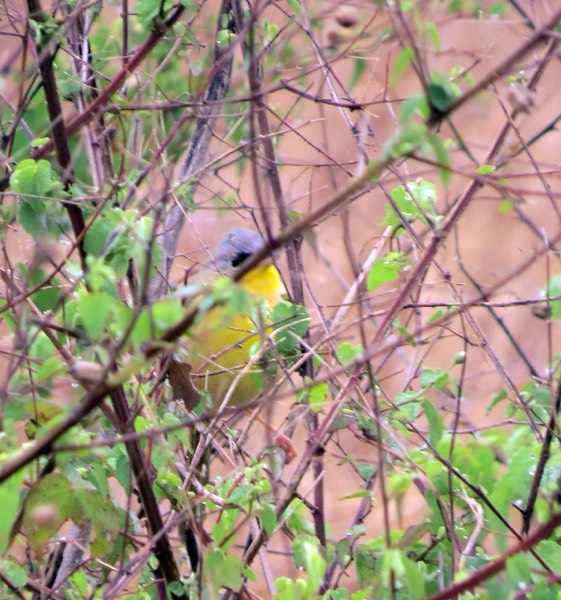 However, Dan Jones, one of the top birders in the Valley, took a shot two days ago when the bird was perched. As you can see, it's beautiful.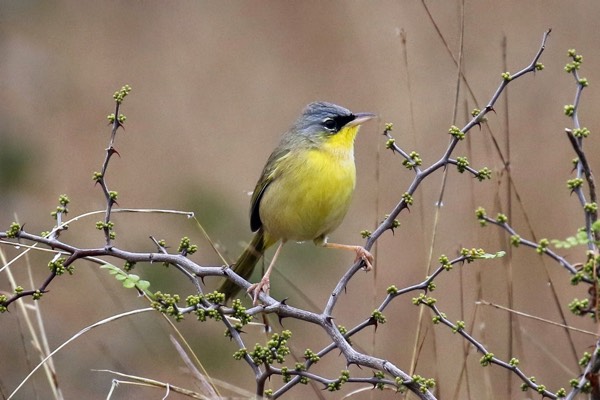 So much of birding is being at the right place at the right time. If I never again hear, "Oh, you should have been here 15 minutes ago," I won't be heart-broken. Meanwhile I am enjoying the memory of finding such a neat bird for life bird #417.