Just before I left the lower Valley, I found this license plate at the [Bentsen-Rio Grande Valley State Park](http://www.tpwd.state.tx.us/state-parks/bentsen-rio-grande-valley). I did not find the owner but thought it was a good birder plate.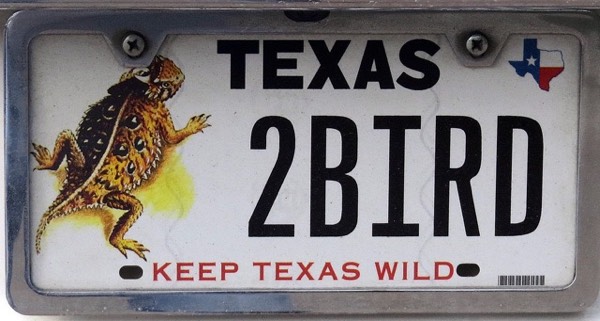 The other day, here at [Falcon State Park](http://tpwd.texas.gov/state-parks/falcon), I came across this one while walking the dog. John, the owner, is an old single guy traveling nearly full-time in a 2005 Airstream and a serious birder.
For you non-birders, twitchers are committed bird-watchers who travel long distances to see a new species just to add a species their "lifelist", "year list" or other lists. (I generally do not include myself in that category but a really rare bird …..)
John is not only a chaser, he's a collector. I should have figured this from the back of his vehicle which had probably fifty stickers – non political – all birding places and events he'd been to. Then, while visiting with him, I learned of his liking for old postcards, old photos and the like. He invited me into the trailer for a look and it was indescribable: hundreds of cloth patches from everywhere, a stuffed dog, all sorts of, to me, crap. I can see why he travels alone.
John collects old license plates as well and has a 1972 Wyoming plate on the front of his truck. He switches them out periodically since PA, like many states, only requires a rear plate.
To each his own. I think I'll stick to electronic images of license plates. And continue to avoid flea markets and lawn sales.