One of the problems with listserve reports is the location of a sighting, especially if you are not from the area.  Some posters put latitude/longitude coordinates in the report but even then, to make sense of those numbers, you have to go plug them into Google Maps.
But technology is better than that. You can just embed that Google Map into your eBird comment! Why not? It's easy, fast, and beautiful!
Zachary DeBruine has built an automated code generator below which spits out an image code you can copy into your eBird comments. You can now have a Google Map embedded in your checklists species comments in less than 1 minute.  It will look similar to this one I prepared for a recent Bohemian Waxwing sighting outside Montpelier.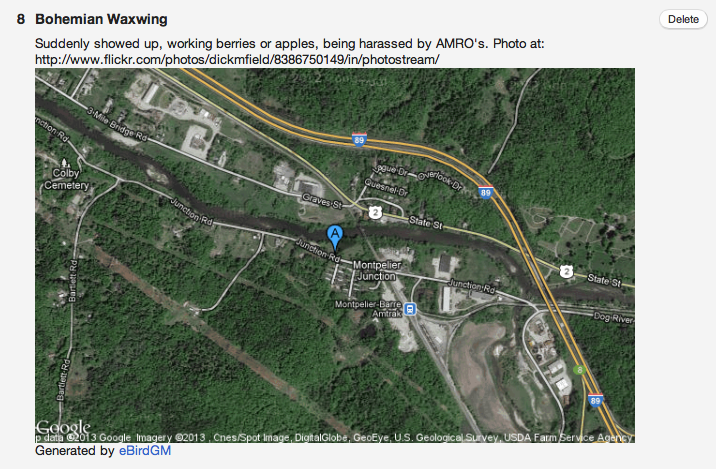 So, you use the eBirdGM code generator below to create a Google map to embed in your eBird checklist species comment:
---
Zoom:
Normal
Map Type:
HybridSatelliteTerrainRoad Map
Colors:
Use Multiple Marker Colors
Labels:
Show Labels?
Visit the eBirdGM Homepage
Tips on getting Latitude-Longitude Coordinates:
Go to Google Maps
Zoom in on your precise location (or search for it)
Right-click exactly at that spot, and select "What's Here?"
Copy the Latitude-Longitude coordinates that appear in the search box
Remember to put the code into the comments section on one of the species you report — if you stick it in the Comments section on the post it is private and only available to reviewers and other eBird personnel.  Give it a try, it's easy.
Sign up by RSS feed or via email to have future articles sent to you.