With the exterior polishing project shut down due to my knee operation, there's been a hiatus of sorts on Airstream work until the last few weeks, when I started to get serious about readying the rig for our upcoming trip.  Last week, with cold weather forecast, I drained the water system and winterized it with RV anti-freeze.  There is a sequence of isolating and draining the hot water tank, switching a valve so that the water pump pulls from a gallon jug, and then the pumping until pink liquid comes out the fixture.  I think everything is set — we will find out in late December when we hit warmer weather and get the water running (and hopefully not spraying through cracked pipes or joints) again.
Last trip, I built some shelving for the shower — which we seldom  use — and we found it handy for storing clean and dirty laundry.  This trip, we decided we might want to use the shower (rather than always relying on public facilities) so out the carefully-built wood came and I stored it overhead in the garage in case we change our mind after this jaunt.
I ordered a new latch, and a new air-relief valve for the shower from Out-of-Doors Mart, a fine mail order place for Airstream gear, and after those little tasks were done, I tackled some of the safety systems.
Checking fire extinguishers, smoke alarms, and LP detectors, I found that our aged LP unit was intermittent.  It was also too close to the door so I bought a new one and installed it in a better place — after quite a time finding 12v lines available to extend.  Now we need to look at CO monitors and buy a new smoke alarm.  (A lot of the gear is original which means it is 14 years old.)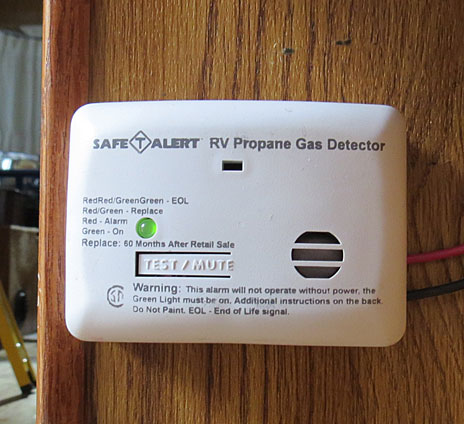 We stopped using the gas furnace system several years ago because the electric blower was a real energy hog and drained the battery quite fast.  We installed a catalytic heater to take its place and it works quite well.  However, as we found in 2012, the first few nights in Walmart lots can be pretty cold — so I decided to see if we could resurrect the old furnace.
I've had really good success getting repair work done at Mekkelsen RV, a local dealer who seldom services an Airstream.  Systems are systems though and they are pros so next week, off we go to get furnace work done.  I also thought, "You know, I don't want to be driving in West Texas thinking, 'I wonder if I should have gotten those bearings greased?' so that's on the list as well.  They tuned up the rest of the gas system this spring so with this, we should be all set.
The game plan is to move the 'stream to Merrimac, MA at Thanksgiving and launch from there right after Christmas.  Stay tuned, it's always an adventure.