After a week of traveling, with one day off to let some bad weather pass, we arrived home Monday afternoon after ten hours in the truck. The trip was plagued by idiot drivers, some of them returning from Spring Break in Florida and others just afflicted with the "weaving through traffic" disease and so added to the heavy traffic and often-lousy pothole situation, it was not fun. Once we got off the Natchez Trace it was brutal until we got north of Albany, New York. We stayed at KOA's in Tennessee and Virginia which are fairly predictable: cramped, weak electric systems, useless wifi and 50 cable channels of nothingness – no PBS etc. They are better than Walmart and like I said, predictable.
The last night on the road, we stay in a nice La Quinta hotel in Harrisburg. They are dog-friendly, clean and quiet, and a nice rest before the long last drive. We launched at 7:00 AM and fought trucks until we got to I-88 in Binghampton. Knowing the roads and getting closer and closer gave me time to worry about our driveway and what awaited us at home. I had talked to our friend Terry who has watched things for us and knew that the warm weather in Vermont was helping but we have a muddy dirt road, tough driveway turn, and monster ledge awaiting. (Every time I think about a newer, slightly longer rig I need to remember our driveway.)
As we always do, we rolled down the windows, tooted and yelled as we crossed into Vermont in Fair Haven and while the frost heaves from Killington to Bethel jounced the trailer, soon we were sliding through Montpelier, up Elm Street and on to Shady Rill Road. What challenges lie ahead?
Shifting into four-wheel drive, I climbed Wood Road and noted that the bad muck hole had smoothed out some but then there was a pile of ice and rocks at the driveway that I had to miss as I turned and climbed. It was a leap of faith. As we topped off I could see the ridges of frozen snowbanks that blocked the garage and the turnaround but I got stopped, spent some time with Mary's help backing and trying to stay out of the soft ditches, finally getting the rig out of the way for the time being. We cut grooves in the soft gravel/dirt with the truck and the trailer tires but I chocked it, unhitched and we could relax and check the house (which was in good shape.)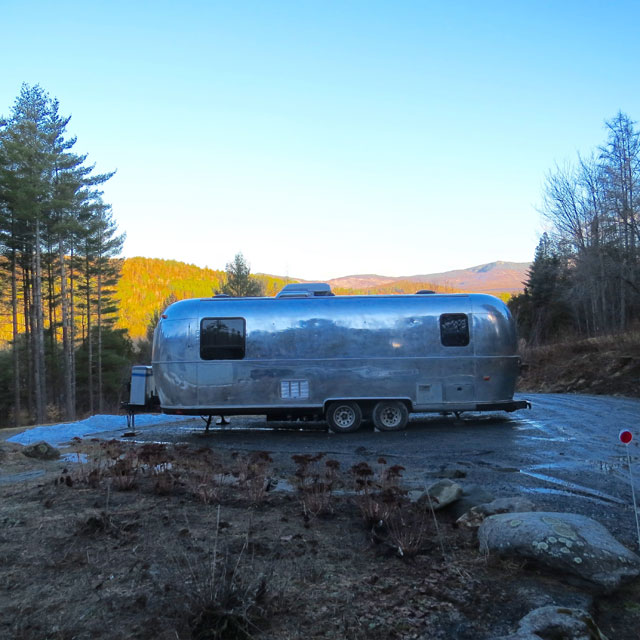 So, some homecoming thoughts:
It feels so good to be back in the land of recycling and local food. It pains us to think of all the plastic we tossed away – most of the country thinks they are doing great when they collect beer and soda cans.
After three months with essentially no wifi (State parks and many commercial parks have dog-slow systems where it's much faster, and costlier, to use 4G), it is great to be able to download software or magazines without having to drive ten miles to the library.
It is good to be back in the land of NESN, at least so far.
We know the warblers are following us, we saw them in Texas, Mississippi, and Tennessee.
And while we avoid political stuff while traveling, it is wonderful to be back in a blue state, where the mud thrown comes from snow tires, not pompous politicians.
It was a good trip all in all. Sixteen new life birds for the trip and a number that are still waiting for me. Good birding to you all.