Having married a Vermont farmer's daughter many decades ago, I am relatively comfortable with cows – although I must admit that Mary's dad and brother kept this "townie" away from skill jobs like milking. But I was a pretty good herder – or at least I thought so.
Birding at Patagonia Lake State Park has made me remember those days of moving heifers down from pastures: there are cows grazing all over the places we bird. First time I've seen that in a state park but in true Western fashion, the grazing rights are leased. So Penny and I deal with curious calves and nosy mothers but just shoo them away. Penny is curious but does pretty well. So we see neat birds and a bunch of free-ranging stock.
Today, driving the back roads, we came across many cattle guards in the road – those series of pipes that often are used on ranch access roads. Cattle can't get over them so it eliminates the need for a gate. I kept thinking, "Why do they need them every half mile in the road?"
I came around a corner and got my answer: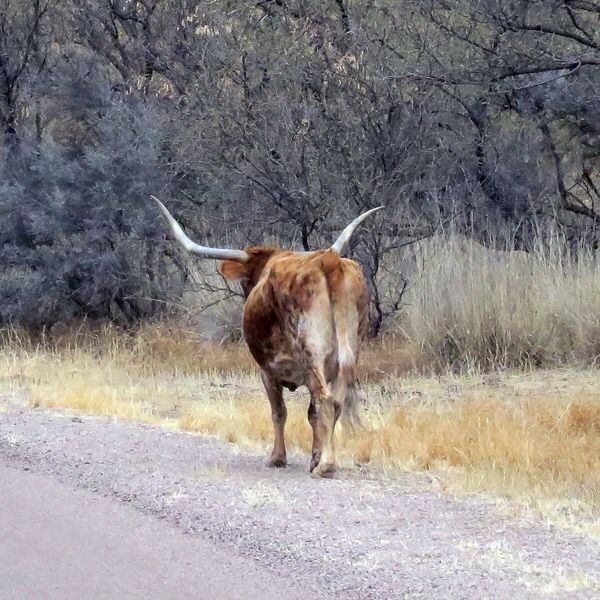 This good old boy (or gal – I was focused on the horns) was just plodding down the side of the road, heading to town. I rolled down the window and to this shot of Mary and her new friend: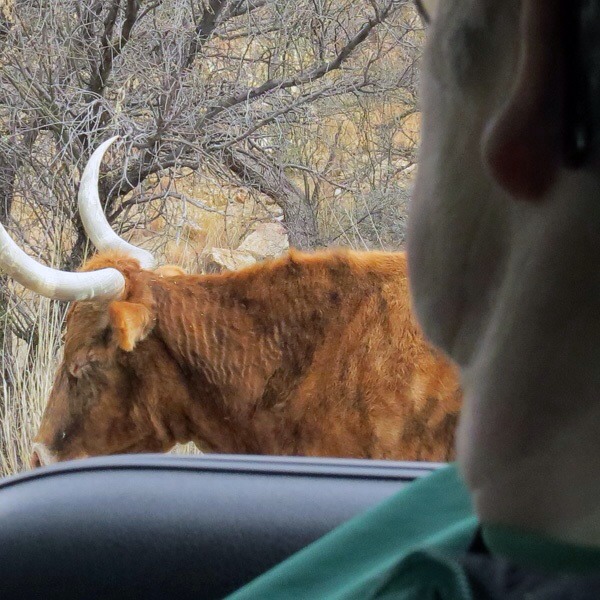 I must say, seeing the feedlots in Las Cruces, New Mexico, early this week made me wonder about the lean hamburger we bought the next day at a supermarket. However, these cattle, grazing on whatever stubble they can find but roaming rather free, make me think of the good beef Mary's family farm is now producing and selling in Vermont. Check them out at Robb Family Farm.