I ordered a replacement refrigerator from PPL, an outfit from Houston, and tracked its shipment to the Mid-west, then Manchester, NH, then to just across the river in Lebanon.  The delivery guy had a tractor-trailer and there's no way he could make it to our house so I met him with my truck down by the highway and we looked the unit over.  It had some road rash from its journey all the way from China but nothing appeared serious so I accepted it and brought it home.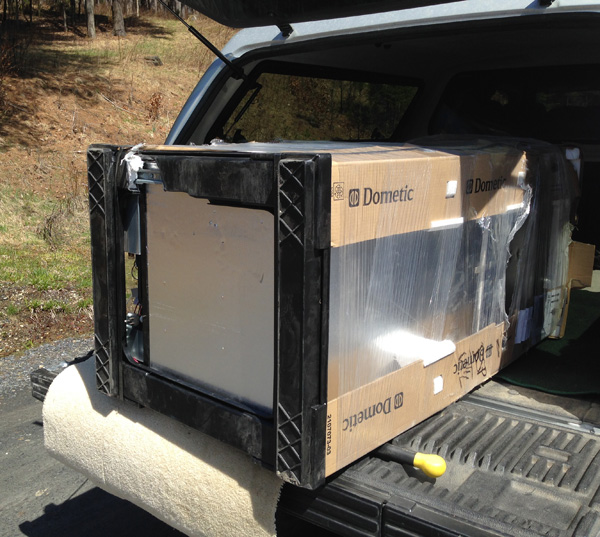 I got the packing off, used the moving dolly to get it over to the Airstream, and asked Mary to grab one end while I got it up through the door.  It was about 140 pounds and between the weight and the stonewall she had to maneuver against, we stopped that process.  I just slid it up, with her guidance, and after some maneuvering, got it into the recess — snug.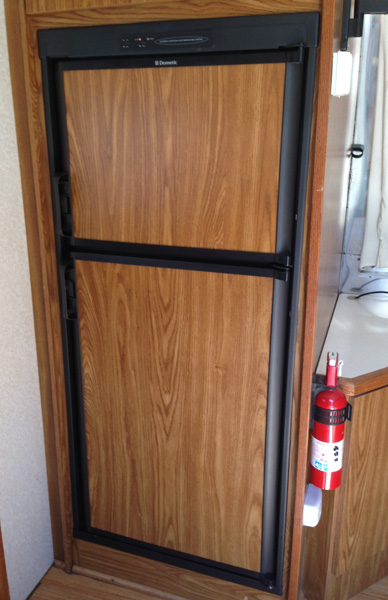 I decided to test it before locking it in with bolts and screws and did so, hitching up the electrical and the gas line.  I opened the door and the light came on — a good sign.  After some purging of the gas line, that system lit off and I could hear the gas unit running.  We left it for a couple of hours and checked it later — cooler and still running.
The next day, I decided to load the old unit into to truck and dispose of it.  As I drove the back roads to the transfer station, I passed several old appliances out by the roadside — their owners hoping that someone would grab them for parts.  They'll be there in July.
I told the woman at the entrance that my unit was dead, no fluids, but she said that "Our tech still has to certify it so that it would be $40."  I didn't hassle her but did say that I could see why folks dump them on back roads.  She agreed.   The tired 15-year-old reefer ended up with a host of old air conditioners, televisions, and refrigerators and hopefully will be recycled.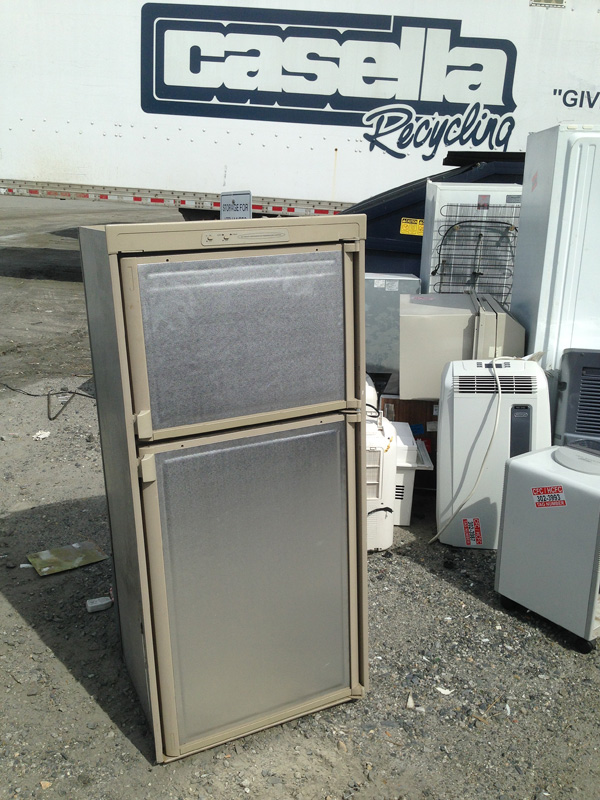 All in all, the installation was much easier than I expected — which is very unusual with my projects.  I'm really glad that we limped home with our dead unit, took our time to replace it, and did it ourselves.  No bruised knuckles or egos — a successful Mansfield event.