I took the dog and my bum knee out birding in the truck yesterday morning and we cruised some of our normal routes — Berlin Pond and the E. F. Knapp state airport.  There were few birds on the pond but what I noticed was the large numbers of Tree Swallows swirling over the water and trees — probably several hundred.  It looked to me like they were gathering for a trip southward.
At the airport, I noted three Eastern Kingbirds feeding together.  I took a shot of one but the morning sun made the lighting poor for photography.  I hadn't ever noted Kingbirds in groups before.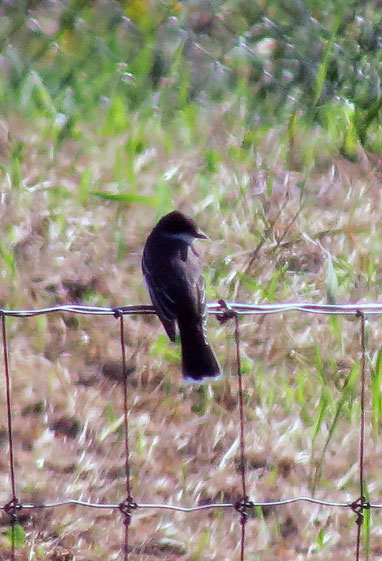 At the other end of the airport, I saw a larger bird off a ways acting a little like a swallow, swooping and zooming.   As I got closer, it flew right over the truck and landed in a tree.  An American Kestrel.  I grabbed a couple of shots from the truck window and then it flew, did its hovering act, and then was joined by three other Kestrels.  They actively hunting and interacting but moved off, out of site, once I got out of the truck.  It sure looked to me like they were getting ready to migrate.
I have noticed that the Chestnut-sided Warblers who were so noisy along our driveway a week ago, seem to have left.  The American Goldfinches and Purple Finches are hitting the feeders like mad.  Change is in the air.