I've taken a break from serious birding for a few weeks but it's hard not to notice that migration has started and transitions are underway. Lots of juveniles flying and feeding, some pretty ratty looking molting going on, and flocks are starting to gather and move through. It's a bittersweet time of year as we never say goodbye — suddenly our summer friends are gone.
A week or two ago, I spent some time in Massachusetts and did a little birding with Penny. There were large flocks of Eastern Bluebirds, most looking a little ragged, who are likely gone by now. There were dozens of flycatchers out and about, silent as church mice, except for a number of very vocal Eastern Wood Pewees. Here's one singing away.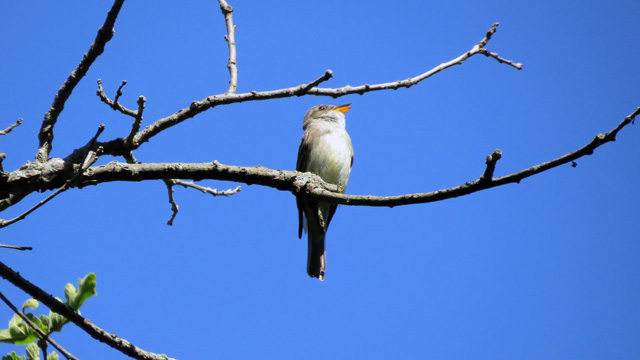 On the same walk, I came across a number of Chipping Sparrows. It wasn't until I unloaded the camera that I saw the meal this one had just caught.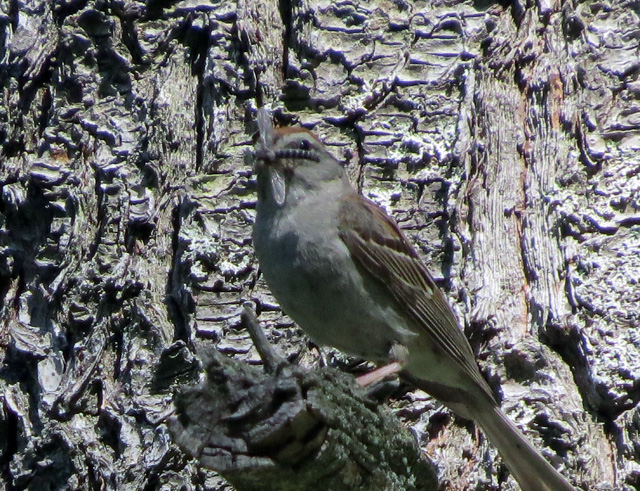 Back home in Vermont, I took the boat out early one morning last week and found these Common Mergansers preening on the boat ramp. I launched quietly down the beach and left them to their morning ablutions.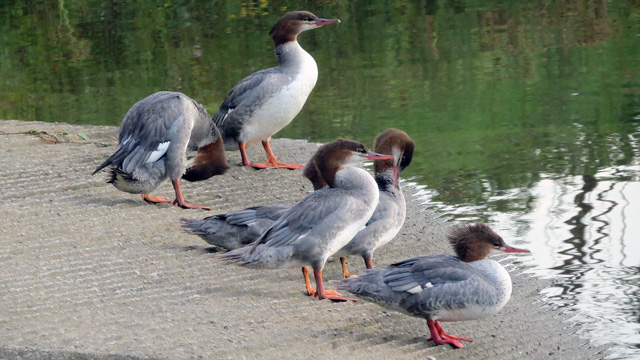 I keep the hummingbird feeder stoked and clean and love watching the youngsters fight with each other as the jockey for food. Any day they will be gone, perhaps today. I grabbed a shot of one perched yesterday morning and noted that they were pretty active all day. Long flight ahead.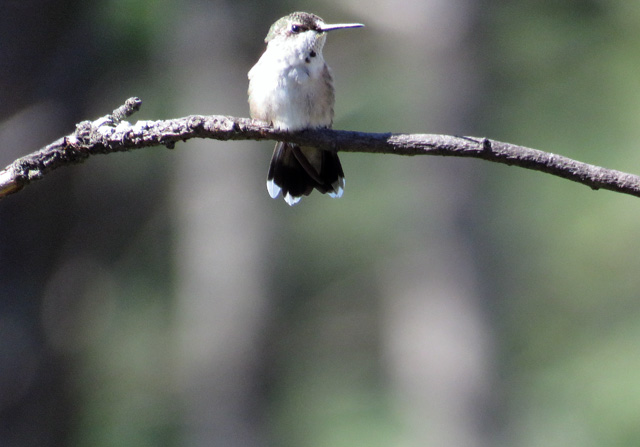 Our local Red-shouldered Hawks are active. Two juveniles have been calling and flying overhead the last couple of days. This one was right above me as I drove home from errands downtown.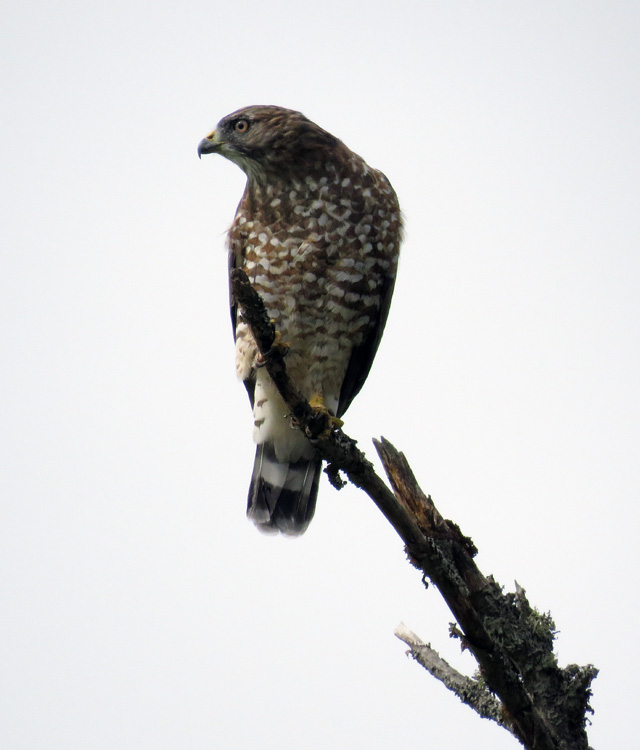 We get a lot of morning ground fog this time of year. Tuesday morning I took a drive down to our reservoir but from the dam could not see much. I got out of the car (without the camera) to walk the dog and immediately heard some geese in the fog. Suddenly, twenty-five Canada Geese came right out of the fog toward me, saw us and swerved, with lots of geese trash talk, and headed south at low level. It was a cool way to start the morning.
Cedar Waxwings seem to be everywhere, feeding like crazy, moving through in small groups. They are often pretty high in our pines but this one was feeding in the wild grapes as the dog and I took our afternoon walk out back. The end of the day was neat as well.