After a wonderful Christmas visit to Jennifer, Ben, & Mac – where we went to a frenzied but fun church pagaent, participated in a memorable Christmas buffet coked by iron chef Ben, and had lunch with our dear friends, the Russell's, we headed out from MA Saturday morning. (this was after several days of thawing out the Airstream, loading gear, and finally, hoooking up Friday night.)
My plan was to leave Saturday to avoid the heavy commuting traffic on I-495 beltway, and later, through the I -84 passage of Hartford, CT. That worked as planned – we lauched at 7:50 AM and the first few hours were easy. The truck pulled well, the weather was great, and things were rosy – until Danbury, just before the NY border.
I have decided that there are too many people and too many cars in the Northeast. I noted a warning sign saying, "traffic congestion Exits 3-1" and shortly thereafter, a long line of stopped cars and trucks. It was awful – extremely slow moving with no relief. (I later realized that it was caused by the I-184 exit down to New York city.)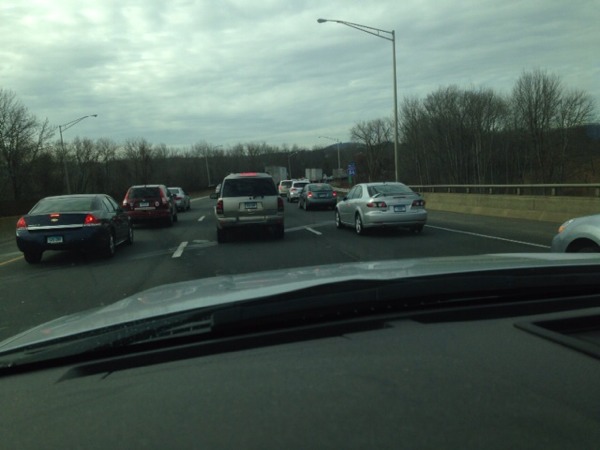 Finally, I came to an exit and got out of the mess, made a wrong turn, explores some new industrial parks, and eventually, with Mary's help on the iPad, got into another slow moving stream on a small road that followed I-84. We were moving and soon, travelling at 50 mph. We entered the Interstate just before the Beacon-Newburg bridge and off we went westward. After fueling (don't ask) we stopped for a lunch break at spot where Penny could get a short run, and we could sort-off picnic outdoors in the 50 degree weather.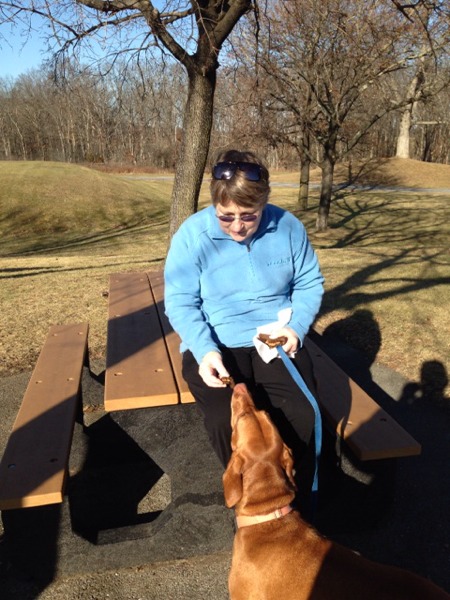 I had never driven I-84 in PA over to Scranton – it was hilly, lightly travelled, and an easy drive. The entrance on to I-81 was smooth (the interminable construction seems done) and soon we were cruising toward Wilkes-Barre, until we weren't. Again, an abrupt stop, two long lines of stopped vehicles, and a long wait. A police cruiser raced by on the shoulder and we crawlwd, for a half hour. It was a minor accident that clogged things, and then it was the typical I-81 rat race of many trucks heading toward Harrisburg.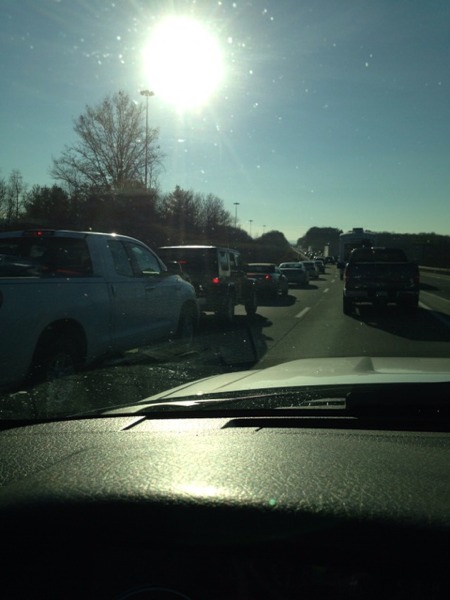 Ten miles north, I saw another electric sign: "watch for slow traffic due to an incident at exit 77). Great! What a trip this was turning out to be. Six miles or so out, we hit stopped traffic, that crawled ahead, but then loosened up for a few miles. Then, three miles north of Exit 77, we hit another long line and spotting an exit, headed off to try something, anything. Mary launched her iPad, which was getting low on juice, and I spotted a possible alternate route. No one else was taking it – now I know why. It was a Vermont-type narrow wingong road – a challenge hauling a trailer at times – but damn it, we were heading west and not just sitting there. There was no internet signal so the iPad essentially said, "You're on your own, folks" as we wended our way through parts of PA we had never seen, and hope not to see again.
We made it to Harrisburg, joined the trucks and cars heading south, never really knowing whether my "shortcut" was worth it. About an hour later, we pulled off at Chambersburg, ans found the Walmart where we have overnighted before. Saturday night brings out all the country kids with their tune-up pickup trucks so we went to bed to the sound of noisy exhaust pipes, and slept quite well.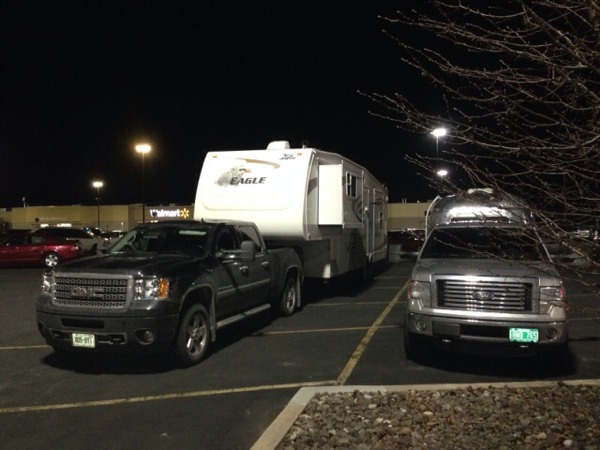 This leg was planned to be our toughest of the trip – just get out of the winter weather. I never anticipated the extra several hours due to traffic. Today (Sunday) is a shorter run down I-81 to another Walmart in Virginia. It's raining, and will much of the trip today but it will help remove the road salt from the trailer. I hear a crow calling and of course, Penny has to growl at it. After more coffee and yogurt, we' ll ease out of here and be traversing Maryland, West Virginia before lunch. Traffic should be light on Sunday (famous last words.)