One of my favorite birding haunts is on Plum Island, Newburyport, MA.  The Parker River National Wildlife Refuge is a prime Atlantic coast habitat for more than 300 species of birds.  Our daughter and her family live less than an hour away so whenever we visit, I try to get over and check out the situation.  The only problem is that dogs are not allowed at all and so it's a hassle at times to find ways to leave Penny elsewhere.  Like all refuges, a Senior Pass or a Federal Duck Stamp gets you in free.
I like to do some homework before I visit and one of the best sources is Tom Wetmore, who visits the refuge nearly every morning and keeps detailed records on his website.  He has a wonderful "A Birder's Guide to the Parker River NWR and Sandy Point SR on Plum Island" that you should download and print.
You can grab some of the same information from eBird but Tom tends to personalize it — and he often sees many notable birds first.  The issue with eBird is that there are dozens of hotspots along the island so you need to check numerous sites.  Here's a map of some of the spots: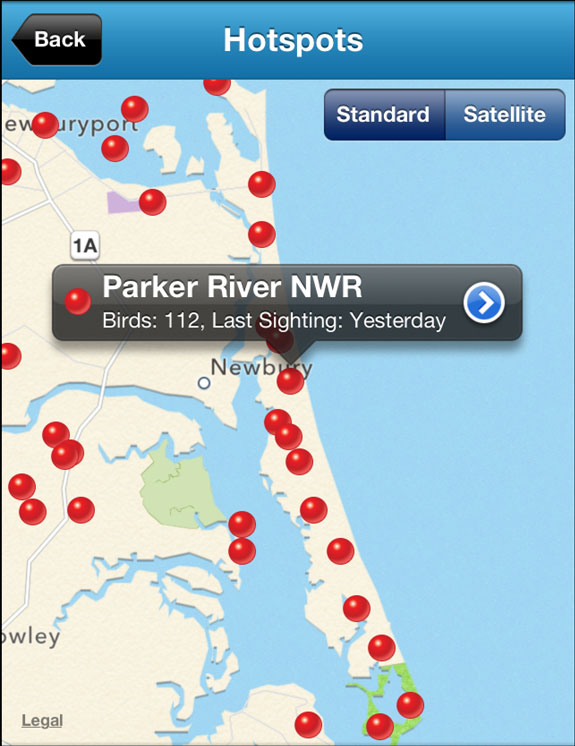 Parker River Refuge has a number of accessible sites and for someone unable to travel far, good birding in many spots along the access road.  On a weekend, hundreds of slow-moving cars traverse the area although you have to watch out for folks heading to the state beaches at the end of island (outside the refuge).  Some of them could care less for birds, or birders.
Hundreds of migratory shorebirds, waterfowl and songbirds use the salt marsh and freshwater impoundments. Shorebird migration begins in July, with numbers peaking in August. photos by USFWS -Northeast
Peregrine falcons can be seen on the refuge from mid-September through November. In winter, the snowy owl returns – I saw my life bird there two years ago. Rough legged hawk and short eared owls can also be seen. Loons, grebes, scoters, and other waterfowl winter along the refuge shore.
Here's how Tom Wetmore describes this neat spot:
 If you are interested in only one specific group of birds you may be able to find a better spot in Massachusetts to see them, but if you are interested in finding the widest variety of birds from the widest variety of groups and on any day of the year there is no better spot to visit in the state than Plum Island.
Bird list: http://1.usa.gov/19zljMJ