After a nice cold front passage, the dawn chorus this morning, starting before five, was lovely. Several very persostent and loud American Robins sang non-stop, nearly drowning out the other singers. Song Sparrows tuned up as did Common Yellowthroats and Purple Finches. A ways off, a White-throated Sparrow sang the "peabody, peabody" tune. Then, about 5:30, it got very still except for the quiet cooing of a Mourning Dove. What a lovely way to start a summer Sunday in Vermont.
I put out the bird feeder and suet about six and a Hairy Woodpecker shows up right away with a "it's about time" attitude. Four finches hit the feeder as does a chickadee. I hear our first Chestnut-sided Warbler and Blue Jay.
On our early morning walk, the dog and I took our time, she checking new smells, I listening for bird calls and enjoying the cool morning air.  A sweatshirt felt good — a little unreal after the 90+ temperatures of last week.  I heard a Brown Creeper and then an Ovenbird.  The bird activity picked up again as the sun rose.
I heard a Black and White Warbler and then a Yellow-rumped Warbler began singing right overhead.  I chased it around with the binoculars and then the camera but it moved pretty erratically.  I grabbed a couple of lousy shots including this one: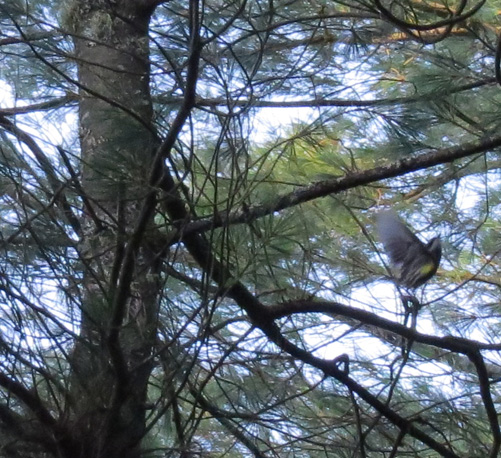 Down in the meadow, things were hopping in the dew-soaked goldenrod.  Several Common Yellowthroats and about a half dozen Song Sparrows cavorted.  The foliage and weak morning light made photos tough.  Here are a couple:
I happened to look up just as a hawk, likely a Broad-winged, flew over with a rodent in its talons.  It was being harassed by a group of smaller birds.  It returned, empty-handed, a bit later and I suspected it might have youngsters to feed.  Several Red-eyed Vireos started up in the tall sugar maples, singing their seemingly never-ending song.  I could spot them but they were way up there and moving a lot.
As I headed back, I thought about how precious these days are, filled as they are with bird song and many youngsters learning the ropes.  They'll be heading out soon — I haven't seen our Rose-breased Grosbeak pair in about a week and suspect they are easing southward.  I was encouraged, as I poured another coffee, to see one of our juvenile hummers tanking up.  They have a long trip ahead of them.