A guest post by Gerry Cooperman
I would like to share with you my journey to Africa. This is not a daily highlight reel of birds but rather a tale of an incredible land. Hopefully you will get there someday but if not enjoy the land through my eyes, my thoughts and impressions. We will talk about birds and mammals but mostly it is about the land and the symphony of life. We have all been to great places so why not share the adventure with others. These are bird journeys as well as life journeys for all to read and enjoy or hit the delete button. It is always your choice.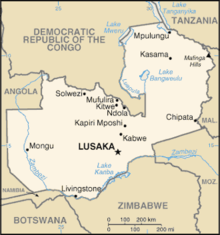 Quite to my surprise upon my retirement my wife bought me a birding safari to Zambia.  At first I thought it was a joke. Africa was always on my bucket list and now it was going to be a reality. The preparation begins.
What to do first? I checked with the hospital and found out all the shots I would need. I like to get the unpleasant stuff out of the way first. Now it was time to study. I selected Sinclair/Ryan "Birds of Africa" south of the Sahara.  All of a sudden I'm faced with families of birds that I have never heard of and felt overwhelmed. I asked a friend who has been and he said "Just learn the big birds, the guide will identify the rest." So this became my strategy.
My trip was booked nine months in advance and time seemed to just evaporate. Now it was time to leave and this is the hardest part of the journey. With the time change I spent about 22 hours traveling. Boston-New York-Johannesburg-Lusaka-Malwe. Fortunately even with the excitement increasing at every transfer I was able to sleep and dream about what was to come.
Norman Carr Safaris were there to greet me and in no time were on our way to camp. Whenever I travel to another country I always pay attention to the children. They are the true spirit of any land. They were coming home from school in groups singing songs. Most waved as we drove by all with smiles on their faces. If you saw where they lived, for them to have this attitude says a lot about the future. After an hour ride we pulled into camp and I got to meet Willie. Willie was to be be my guide while at this camp. When he asked me if I want to go out, I was in his jeep before he changed his mind. I just left my bags on the ground.
This was a bird safari but seeing mammals was an added treat. As we left camp the jeep came to a sudden stop and in front of us was the most gorgeous giraffe I have ever seen – an adult male Thornycroft Giraffe. This is considered the most beautiful of the subspecies with its star and leaf shaped spots cascading downward to solid rust colored legs. This part of the Luangwa Wildlife Reserve (LWR) was created because of this giraffe.
I heard and saw birds flying around but Willie was the boss. On the way to the LWR he suddenly stopped and pointed to the top of a tree. Perched there a large bird. Willie asked me what it is and I said Brown Snake Eagle.  His reply was a simple "good call lad."  I think I passed a test.
The only rule was "never stand up" with an animal nearby. We used the vehicle and the sound of the motor to confuse them and that kept them away. It's an easy rule to follow.We picked up some small indigenous birds along the way and now we entered the LWR. It has a main road with dirt trails and then no trails;  in the time we were there Willie never took the same route. The vehicle could travel anywhere it had traction. There was a morning ride, back for lunch, out again back for dinner then a night ride. I was lucky in that we only had to cancel one afternoon/night trip because of weather.  And better yet I was the only person on the trip.
In addition to the wildlife my desire was to see a baobab tree. This is a most unique tree which is sometimes called the upside down tree since the limbs look like roots. It is also called the tree of life as it provides humans and animals with food and shelter. It can live several thousand years and is fireproof. When there is torrential rain it soaks up tons of water making it swell. It then is able to provide water in a severe drought. Some even grow over 90 feet tall. They stand as sentinels watching over the land, watching the daily struggle between life and death. This is the rhythm of Africa. Quiet during the day and alive with sound at night.
Birding in Africa has one great advantage. There are little to no leaves on the savannah trees, rather it is a series of dead snags. So when you see a White-tailed Eagle you see it completely. The Lilac-breasted Roller, probably the most photographed bird, sits on a bare branch with the sun shining down and you understand why he is so desired.
The first night drive we heard lions coughing and then came upon two lions walking down the road not more than 20 feet from the vehicle. Willie is an expert tracker and he knows the animals well. The lions were not hunting but soon would be and we decided to leave them be. On the way back we came around a bend and there were a hundred Cape Buffalo standing in the road. Willie asked me if I wanted to spend the night and I said if he was so was I. He shut off the engine and Cali shut off his light. Willie whispered that we can't drive out fast enough if they charge so we'll sit here. This is when I learned their secret. When he started up the truck and the light was put on their feet they dispersed. It took all of 5 minutes for over a hundred animals , most weighing almost a ton, to simply vanish into the grass.
The next day we were charged by an elephant. Ok it was a bluff charge but very impressive anyway. We came upon this lone young bull who was trumpeting. We parked across the road and the elephant started moving quickly and flapping his ears. Willie says "he's going to do a bluff charge now don't get excited."  Who gets excited with an elephant who is about to charge? I do. But as he expected, the bull made two aggressive passes but kept his distance and then I was told he was only practicing. Playing or not there is something that makes your heart pound a little faster and that is a trumpeting elephant pacing back and forth with ears flapping wildly. Willie told me later that as long as his ears were flapping we were okay, if they went flat it would not be good. As we were driving back to camp a rare treat crossed the road. A civet, the largest of the small cats and very rarely seen in daylight. The animals were as exciting as the birds. As well they should be.
One group of birds I really enjoyed were the big plovers/lapwings that inhabited the wet part of the savannah. There are four species; Blacksmith, White-headed,Crowned, and Wattled. They were never idle – always flying short distances making their loud piercing calls. On top of that they are very striking when they take flight.
We were sitting on the back of the vehicle enjoying our morning break when Willie says "no sudden moves now there's a Leopard coming in from the right." The Leopard walked right past us and was confronted by three Impala. The male started snorting at the leopard defiantly. Willie explained that since he was strolling through the grass with his tail curled up he wasn't hunting. An amazing confrontation of predator and prey. The next day we found the Leopard in his tree with a fresh Impala. The predators rule the land.
Mid week I was invited to the bush camp. We had to go with an armed ranger because we would be walking the land. The camp is about one hour upriver from the base camp. The journey was memorable. The Luangwa River is the Hippo capital of Africa and navigating the river we used the Hippos as guides. Because they walk and do not swim as long as the boat stayed in the middle we were safe. Everyone knows that Hippos kill more people in Africa than any other animal.
Moving up the river we came upon an 18-foot Crocodile. The guide estimated that it was the biggest he has seen on the river. When you see them you can understand how they have not changed over the eons. We had two memorable bird encounters.  The first was a Kingfisher that I had been looking for from day one. As we rounded a bend perched on a dead snag in the river was nothing short of a flying jewel. I had found the Malachite Kingfisher and there are no words or pictures that can capture the essence of its beauty lit by the sun. Next I was going to get the most spectacular bird of the entire trip.
We cruised into a mahogany stand that was flooded when the ranger said something in Zambian. We immediately beached the boat and started to look for what I hoped would be a bird. I still didn't know what he saw. We were walking very slowly when a hand touched my shoulder and he said stop and pointed to a tree. There facing us was the Pel's Fishing Owl. This huge ginger brown Owl was just watching us and when he had enough he displayed his massive wings as he flew away.
One cannot go to Africa without coming away with a desire to return. This land talks to you every day with sound and fury,with life and death struggles. Daytime is for relaxing and nighttime the land roars with the sounds of the hunters. There is a constant energy force that you can sense. When we walked the bush you always had the feeling that something was close by. You didn't walk with fear you walked with respect for their land. They were allowing me to enjoy their land because it does belong to all the creatures that inhabit the wild. It is our responsibility to see that it remains this way forever.