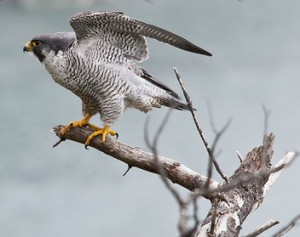 When asked to name the fastest animal on earth, many people will respond "cheetah." But it is the peregrine falcon – a cliff-dwelling raptor –that holds that title with the ability to reach speeds of 200+ MPH as they stoop (dive) in flight. (The cheetah tops out at a mere 70 MPH).
Equally remarkable is the fact that this speed demon of the skies was nearly wiped out 50 years ago; its recovery ranks among the great success stories of conservation biology and endangered species management.
Historically, the eastern peregrine falcon population was centered in New England and the Adirondack Mountains, ranging south along the spine of the Appalachians to western Georgia. In 1940,the population was estimated at 350 pairs; by the mid-1960s, the species was completely gone from the region, a victim of the devastating pesticide DDT…..