Previously, I wrote that I was looking into doing a big year in 2013 since we are staying in Vermont this winter.  I was considering a state-wide effort but after giving it more thought, felt that it would be a nice challenge to bird Washington County — it's more energy-efficient, time-efficient, and manageable with having to bird mostly with a dog along.
So, I'm already learning a lot as I plan.  We have lived in this county for about 25 years total — including the last 13 — and I am just now learning the boundaries.  It's a 695 square miles with lot of zigs and zags.  There are only a few bodies of water so we look for shorebirds in flooded cornfields.  Here is some material that my friends at North Branch Nature Center put together for a county contest a year ago.
Q: What birds can be found in Vermont / Washington County?
A:
  –  Vermont Daily Field Card: This is a great checklist that can be used for day-to-day
birding in Vermont. It includes rarity and time of year for each species.
  –  Bird Checklist for NBNC & Surrounding Parks: This checklist was designed for use at
NBNC and surrounging parks but also includes directions to some other local hotspots.
  –  Vermont State List: A list of all birds ever seen in Vermont, even if they were only
seen once.
  –  Breeding Bird Atlas: Contains a list of known breeding birds in Vermont and includes
maps of where breeding has occured.
  –  Vermont eBird Bar Chart: The powerful eBird website allows for a bar chart displaying the
frequency at which birds occur throughout the year in our state. You can submit your
sightings to eBird too! (added 1/12/10)
  –  Washington County eBird Bar Chart: Similar to above and specific to Washington Co.
Q: Where are the best places to see birds in Vermont / Washington County?
A:
–  VT eBird: Has a list of birding "hot spots" and even allows you to see which birds have
been reported at those sites.
  –  Birding Guide to Chittenden County: A resource from Green Mountain Audubon.   –  Birdwatching in Vermont, by Bryan Pfeiffer and Ted Murin, is an excellent resource
for birding in the state.
  –  Birdwatching in the Mad River Valley: The "Mad Birders" have posted a list of places to
bird in the Mad River Valley on their website.
–  Lake Champlain Birding Trail: A free guide to birding spots along the lake.
–  Connecticut River Birding Trail: A $5 guide to birding spots along the Connecticut.
Q: What are good Identification Guides?
A: There are many great identification guides and you may ultimately want to obtain several. Some have different features and/or styles such as detailed life history, range maps that appear next to plates, photos vs. illustrations, etc. Some may be small & compact (for field use) while others may be bulky but comprehensive. Furthermore, some guides are specific to a certain region (ie, Eastern vs. Western) or type of bird (Gulls, warblers, shorebirds, etc.) Below are some suggestions:
–  Cornell's "All About Birds": an free, online guide
–  Sibley Guides
–  Peterson Guides
–  Audubon Guides
–  Stokes Guides
–  National Geographic Guides
–  Kaufman Guides
Q: What Towns are in Washington County?
A: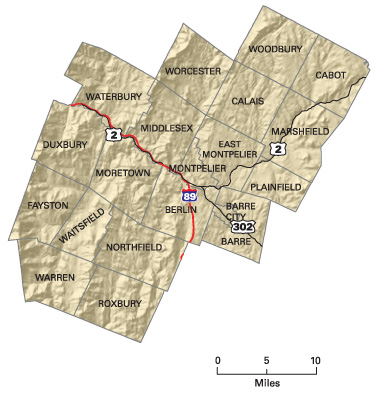 Sign up by RSS feed or via email to have future articles sent to you.