We are leaving for a brief visit to our family in Maryland  this Thursday.  Annapolis is always a great place to bird and I've had some nice outings in the general area.  I'm not too interested in finding rarities this trip – I want to spend some time with my grandson, Dane who is a budding birder and lister.  We've already visited several local hotspots during past trips and likely will do so again.
When we are traveling outside Vermont, I usually do some "electronic scouting" to check out the birding situation at our destination.    So here's a few ideas on how I prepare.  Please feel free to add your ideas in the comment section.
Monitor Birding Groups
Before our trips to the Southwest, I rejoin list serves in Tennessee, Mississippi, Louisiana, and Texas to monitor their reports and get a sense of what I might be able to see.  Likewise, in the East, where we travel to MA and MD periodically, I belong to various groups and read them.  I haven't had much luck in the past with the MD list serve, which went through some turmoil, but joined the Facebook group for Anne Arundel County and watch their stuff closely.
Use iBird
I routinely check the hotspots for the area I'm going to visit, checking to see what has been reported in the last 30 days.  iBird uses eBird data but displays it graphically as shown below.  It's also nice to be able to search for a particularly species to see where it has been recently seen.
Query Local Birders
I've been to Maryland several times and met a few birders.  I keep their names (and sometimes a short description) on my iPhone — just so I can greet them by name if I see them again.   Sometimes, I'll email one and ask for help.  For this trip, I posted a question on the Facebook page and got some good feedback.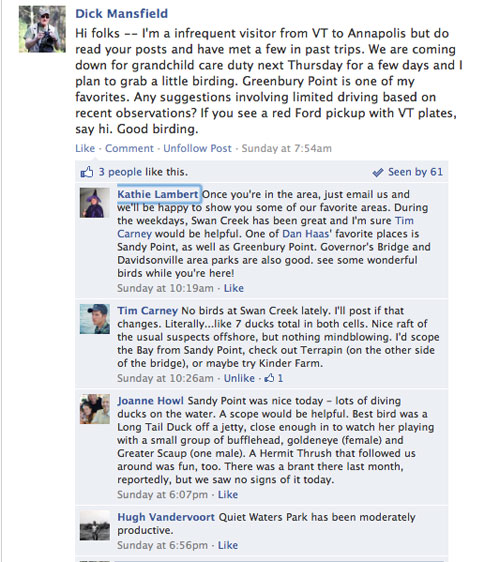 Needs Alerts -eBird
eBird lets you set up alerts on rare birds or birds that you haven't seen in the area you are visiting.  The reports, if you have never visited an area, can be lengthy but you can scan it for birds of special interest.  You can get daily or hourly reports listing birds seen in last seven days.  I noted that Tundra Swans are being reported at several locations — this would be a life bird.  One of the Anne Arundel Facebook birders posted a great photo as shown below.
So, I'm looking forward to warmer weathers and some birds that we won't see in Vermont until next Spring.  What I need to do first is make the eleven-hour drive.
What else to you do to prepare for a birding visit?  Tell us about it with a comment below.  You should sign up by RSS feed or via email to have future articles sent to you.  Thanks