I have pretty much switched to my Canon SX50 HS digital zoom, leaving my more expensive camera back at the trailer. Generally, this is a good strategy but every so often, I end up pushing the digital zoom too much.
In some settings, the zoom will go all the way in to 200x or the equivalent of 4800mm. At this distance, the photo quality gets grainy, especially in poor light – but it captures a record of what you saw.
We had a great visit to Lost Maples State Natural Area where I got three life birds (more on that next time.) I heard about a nesting Great Horned Owl late one day so we drove out to the picnic area and soon located her in a cave-like impression in the cliff across the valley. The light was fading and she was in the shade but the photo, grainy as it is, looks almost like a painting. She was there the next day but sleeping.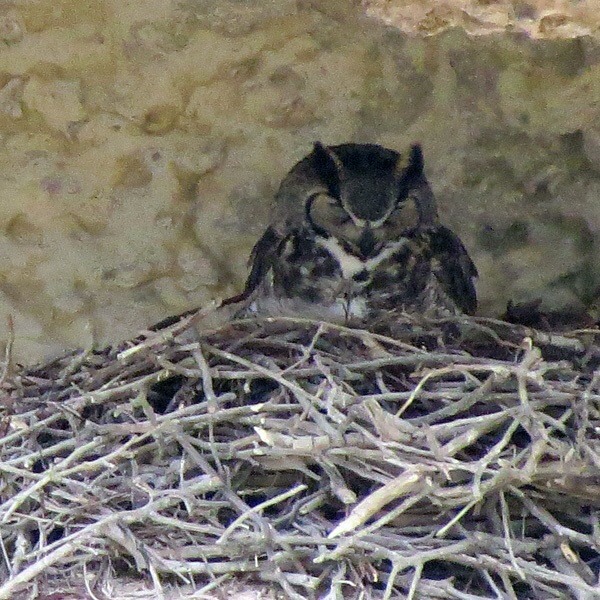 Not far away, in another cliff in a neighboring valley, there is a Red-tail Hawk nest. The local bird hosts have built a pipe-tube pointer to allow you to pinpoint the far-away site. The first two times I checked it there was no activity. The next morning, I saw a RTHA flying over the campsite and later, when I took Penny for a walk up the trail, she was on the nest. Again, another long-range shot at the limits of the camera.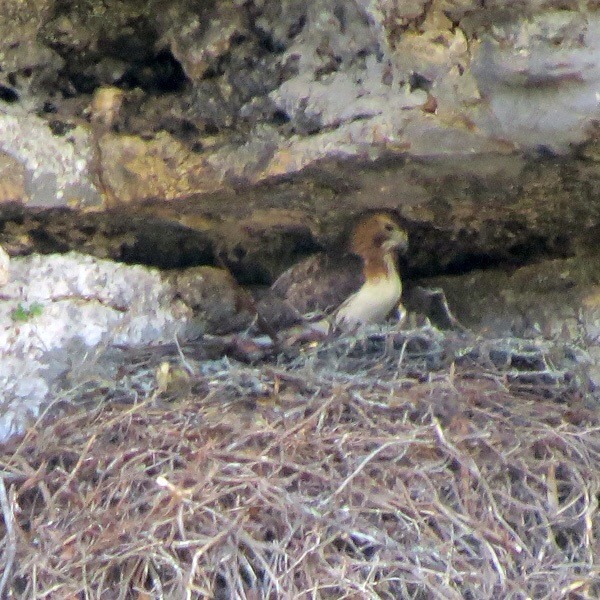 Even though it snowed in Vermont the first day of Spring, these nesters give one hope that warmer days are ahead. Happy Spring!