Shortly after we arrived at Choke Canyon State Park, I drove over to check out the 65-acre lake where, six years ago, we had seen a rare [Northern Jacana](http://en.m.wikipedia.org/wiki/Northern_jacana). I recalled the dainty prancing of the bird on the floating vegetation, oblivious to the dozens of birders watching it. "Wouldn't it be great to spot something unusual?" I mused as I drove.
What I found was nothing – nada! No bird, no lake The Texas drought had taken its toll.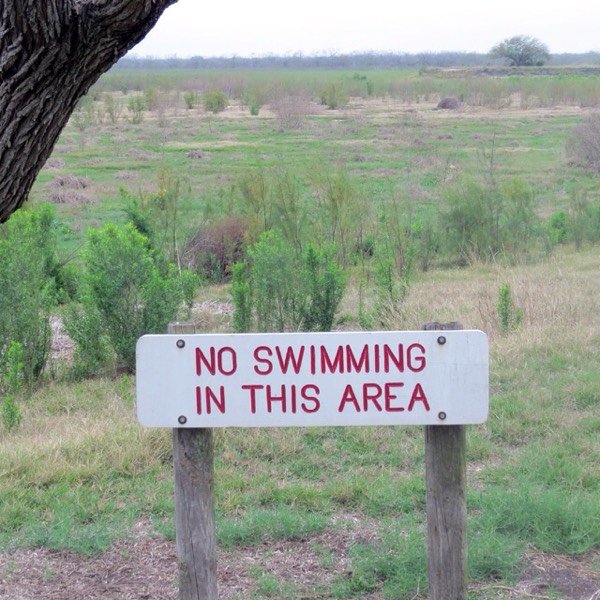 Texas has been in drought conditions for about five years and Choke Canyon Reservoir, where we are camped, is only about a quarter full. It doesn't seem to affect the fishing; the place is crawling with guys going after bass, blue catfish, and crappie. The ones I talk to say they're doing great.
I visited another section of the park yesterday and found some mudflats where Least Sandpipers, Greater Yellowlegs, and a Great Egret were feeding. It took me a moment to realize, after I saw floats lying on the grass, that this was once the swimming area and as the water dropped, they just left the cables and floats in place.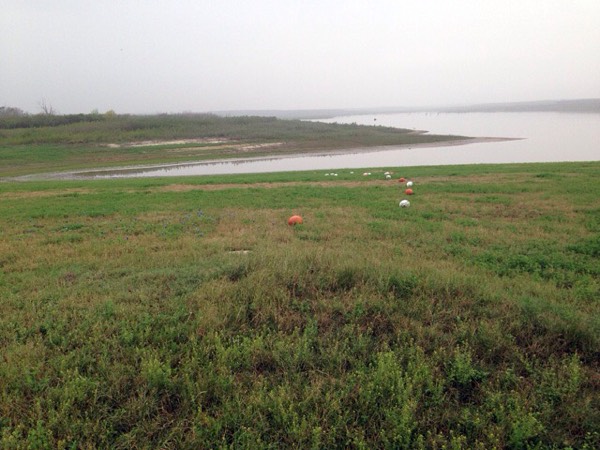 We have several days of thunderstorms ahead with warnings of flash flooding. While the storms may hammer the campsite and especially all the spring break families here for the weekend in tents and pop-up campers, the system won't make a dent in changing the reservoir level.
And I think it is time for the park staff to remove the sign to the "75-Acre Lake."
Here's a New York Times article about some of the tensions arising from the drought.