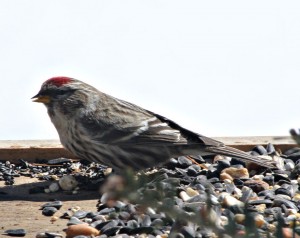 Common Redpolls arrived at our feeders in late November and ate us out of house and home for about a week — and vanished until today.  I've not seen any Redpolls in the woods or anywhere around central Vermont but suddenly, about a dozen were chowing down on our sunflower and nijer seeds this morning.
It's great to have them back — they are just great to watch as they chow down.  You might remember, from this post, that they have a "pocket" in the neck area to store food.  I thought of this today as I watched one grab at least a dozen seeds.  I didn't stick around to see if it could still lift off with that payload.
So, regardless of whether you are a new group passing through, or an old group coming back to where the food is great, welcome Redpolls.  You perk us up on these short, short days.