We do most of our camping in the winter but usually take a couple of local trips each summer to check out Airstream systems and enjoy some of Vermont's state parks. This past mid-week, we reserved a spot at Ricker Pond State Park in the Groton State Forest and had a wonderful three days.
Ricker Pond SP is like essentially all Vermont parks — aimed more at tent and lean-to campers than RV's. There are no hook-ups nor is there any internet — wifi or 4G. There are only about five sites where we can fit our twenty-five foot Airstream in.
We infrequently camp when school is out and when we do, we avoid the weekends. Even so, there were tons of kids around. It's a pretty-safe park for them, with limited traffic and long smooth dirt roads for bike riding, but because of all the recent rains, the bacterial level at the swimming area was high and the beach was closed.  We enjoyed the squeals and yells of kids although a few carried on rather late. It was nice to see no electronic devices — we had Kindle books on our iPad but other than that, radio silence. It didn't kill us.
Here are some shots that I took while out on birding/dog walks.
This park has 27 campsites, 23 lean-to shelters, 5 cabins and a couple of waterfront cottages. The lean-tos are very popular and people reserve the same one year after year.
I did a lot of birding and in spite of mid-summer and heavy foliage, heard and/or saw most of the usual suspects. Red-eyed vireos seemed to be holding a convention there. The highlight was the pair of Common Loons who have nested there and have a couple of chicks. I took some photos from the canoe but stayed well away from them. You can see one of the youngsters in the photo.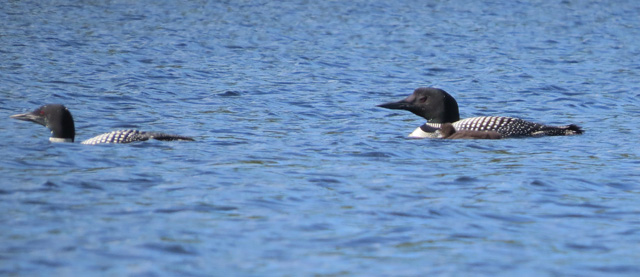 It's a pretty little body of water and it is easy to see why so many folks, many who have camped all over Vermont, come back. If you have a larger RV, there are several sites up at the next campground, Stillwater, which can handle large units. You'll need a generator or solar system — it's boondocking at about $20 a day. But look at this shot of Ricker Pond – it's pure Vermont.