We had set aside two nights at Anza-Borrego Desert State Park before heading further eastward. The trip from San Diego was longer than expected because of the steep winding roads crossing the mountains. The truck did fine but the brakes got warm on the 6-8 % descents inspite of my using the engine for slowing. We arrived at the village of Borrego Springs with its greenery, golf courses, and "we want to be like a mini-Palm Springs" look and prices. (Gas is $4.09). The park is massive and we got the last of the 52 hook-up sites. Here's our setup.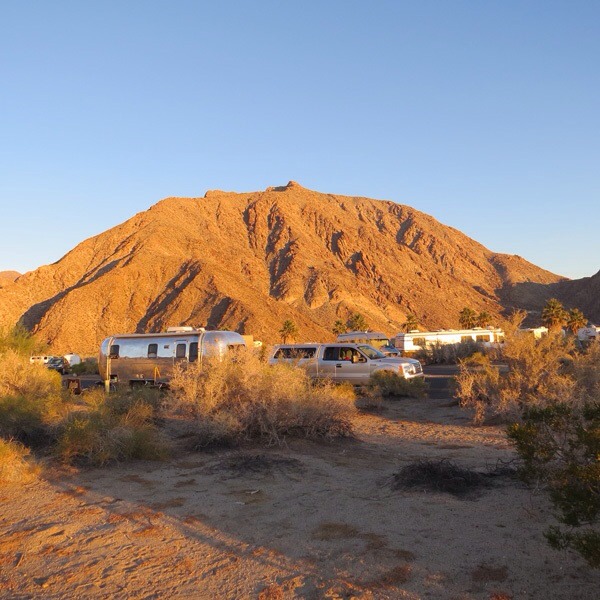 With over 600,000 acres, Anza-Borrego Desert State Park is the largest state park in the contiguous United States. 500 miles of dirt roads, 12 wilderness areas and miles of hiking trails provide visitors with an unparalleled opportunity to experience the wonders of the Colorado Desert. The park is named after Spanish explorer Juan Bautista de Anza and the Spanish name borrego, or bighorn sheep. The park features washes, wildflowers, palm groves, cacti and sweeping vistas. Visitors may also have the chance to see roadrunner, golden eagles, kit foxes, mule deer and bighorn sheep as well as iguanas, chuckwallas and the red diamond rattlesnake. *
Before we got here, we knew about a weather warning for this weekend with high winds, lots of rain, and snow in high elevations. We had an option to try to outrun it but looking at Arizona forecasts, it looked like it will be to extensive – and the last thing we need is to run into high winds and rain on the road. so we have decided to stay here – even though it is full. I'm betting that the forecast will cause some weekend cancellations and while we may have switch sites, or even go into the "no hookup" areas (we have a generator if needed), we are going to sit tight here until Monday.
We have good 4G reception, showers are a short walk away, and town is only a few miles away. Meanwhile, I can sort through my California bird photos . Here are two Cactus Wrens, probably my favorite desert bird, that I saw on my dog walk this morning.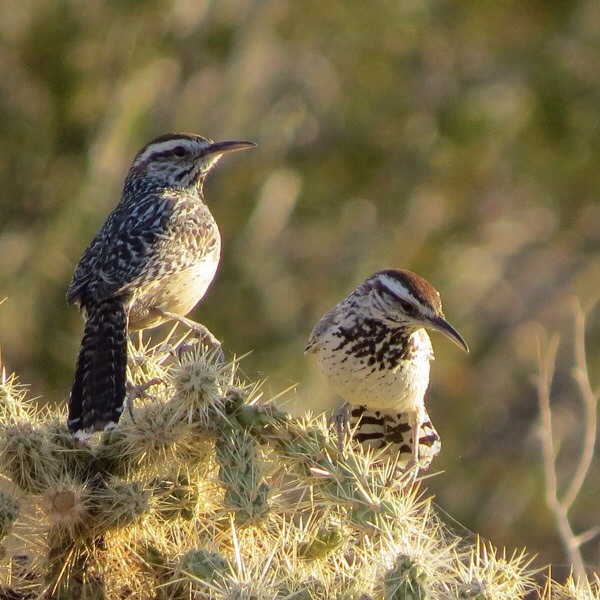 Looking at the positive side of things, the Airstream needs a washing badly after a week of salt spray and sand – so it looks like we've got one on the way. I look forward to seeing the desert after this much-needed rain. Bring it on!