We took the Airstream to Massachusetts to see Jennifer and her family and do some birding in one on my favorite counties. Essex County is so geographically diverse and filled with good birds and some amazing birders. (I don't count myself in that latter category!)  In a couple of days, I picked up 68 species and never got on to Plum Island for shore or sea birds.
Saturday morning, I took the dog on a little outing with the truck and we explored a few of the back roads of West Newbury.  It was a morning of dog walkers, runners, cyclists, and trash pickup trucks on the narrow wooded roads.  There is one short stretch that bisects a marsh – part of the Crane Pond Wildlife Management Area – where I have previously birded.  The road is paved until you get to the marsh, then there is a dirt stretch that is severely washboarded, but that didn't slow down the folks out for their Saturday morning errands.  I walked the dog, dodged traffic, and saw some nice birds.  Here are a few photos:
Early in my walk, I spotted an Eastern Kingbird flitting about.  I took this shot just before the bird flew to a nest.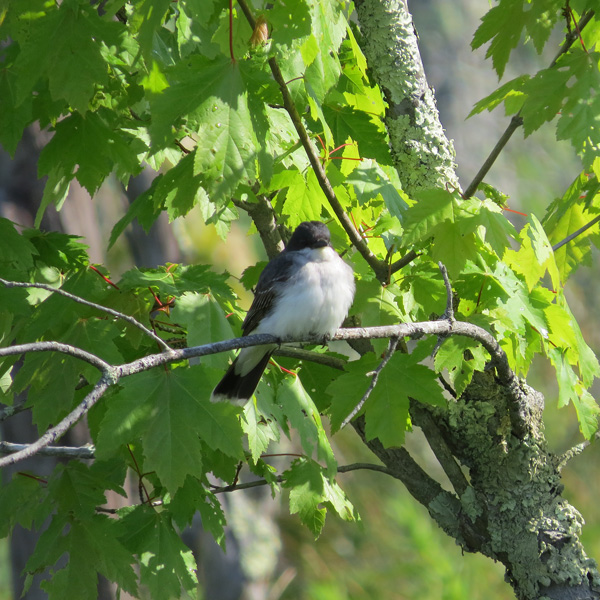 After a while, in spite of the good birds, I got sick of eating dust from passing trucks and cars and headed back to the truck.  It was a good outing – a little piece of wildness in an urbanizing area.  Good birding.