I drove about five hours on I-10 from Beaumont, Texas across most of Louisiana, including an 18-mile (29 km) stretch of elevated highway between Lafayette and Baton Rouge known as the Atchafalaya Swamp Freeway, as it goes over the Atchafalaya River, across the Atchafalaya Basin Bridge, and the adjacent swamps. It crosses the Mississippi River at the Horace Wilkinson Bridge. I learned once again, as each passing tractor trailer pulled the Airstream toward it, how much I dislike interstate driving.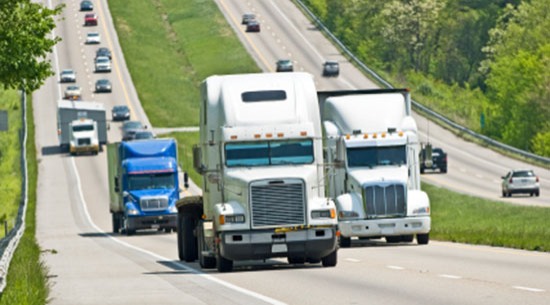 The speed limit in Texas is 75 and in Louisiana it is 70 and that seems like a suggestion. I drive about 68 or so, even though that kills gas mileage, because to run much slower is an invitation for problems. Truckers, like all drivers, come in many flavors and some are just crappy at driving. Turn signals are for the weak, speed consistency is boring, and boring down behind slower vehicles, like that shiny Airstream, puts some spice in a long haul.
So I got thinking about this – and having driven across the country and halfway back, I decided to stop whining about truck traffic and point out some things we like, or dislike.
Mary and I find it interesting that the billboards for adult stores start as you hit the Bible Belt and continue throughout the South and Southwest. Billboards are obnoxious, as are wind farms, but they seem more acceptable in someone else's backyard. We have apps for gas stations but billboards help us make our fuel stops.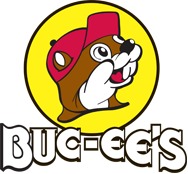 Most gas stations, even truck stops, are tough when you pull a trailer. The diesel folks have all sorts of room but we have to fold in with the cars, often making either the entrance or exit adrenaline-producing. Love's, Truck Stops of America, Flying J, Pilot are all focused on truckers and RV's are just tolerated. That's one reason our favorite stops are Buc-ees: there's room, they don't cater to 18-wheelers, and they are immaculate. They are a Texas outfit and use clever Burma-Shave type billboards to lure you in.
The speed limits in the West are insane – we've seen 80 mph on some parts of I-8. Even a narrow two-lane road with no shoulders often has a 70 mph limit – to me 50 is pushing it. Some of the interstate has direct access from dirt roads and driveways, and it is not unusual to see walkers or cyclists legally using it.
The worst drivers I encountered was on Highway 83 in the "Valley" of Texas where merging and passing on the right is an art form. A close second is Highway 5 out of San Diego where guys in white pickup trucks seem to have a driving death wish.
One of the fun aspects of travel for me is to see how communities handle their water tanks. In New England, we often hide them or partially bury them but elsewhere, there are lovely murals, descriptions of the local football team, or just the community's name.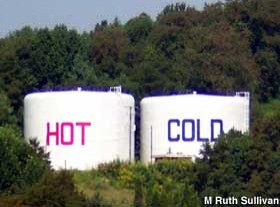 My favorite, which I always look for as we approach Marion, VA on I-81 is this pair.
One of the big changes we've seen this trip is the impact of fracking. We drive by miles of oil firms, each with their collection of RV's set up with wifi and cable TV for workers, and get chased by oil trucks just barrelling (pardon the pun) along on once-quiet secondary roads. The piping, the smell, the massive containment ponds, the flares of gas all are ugly. And talk about euphemisms in signage – of course you never see the word fracking – it's more like Southwest Energy Services.
Yet, I can't help but consider our energy footprint as we fill the big gas tank day after day. At least we are offsetting some by longer stays in places and by using much less fuel oil at home. Lots to ponder on the last 1700 miles of the journey.