As usually happens on a long trip, I was up at two, then at four for real, and on the road at 6 AM. I recalled trudging down an icy driveway in the dark with Mary on our last trip – we had parked the rig at the bottom due to snow and ice. Today's launch was rather easy relative to that. As we'd say in Navy flying, "kick the tire, light the fire."
Penny and I took our first break at the Fair Haven rest area where this selfie documented my last time in Vermont for a while.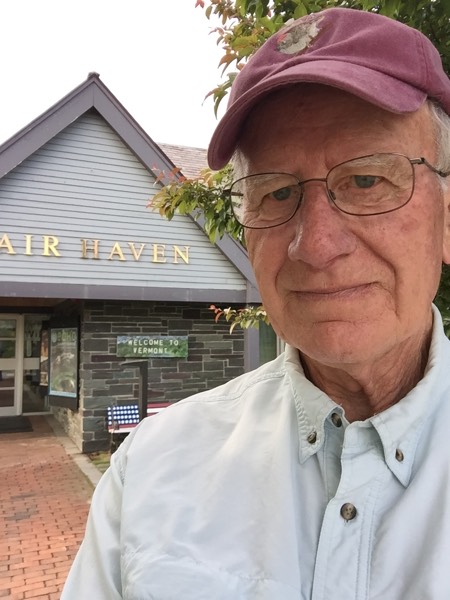 I had been watching the forecasts which called for severe thunderstorms on our route. I considered taking a higher route – the Thruway – but decided to wait a while to decide and then stayed with our original plans.
Getting out of Vermont was easy and the weather and scenery was perfect. The lightly-traveled I-88 was likewise pretty uneventful aside from a lot of one-lane stretches for construction.
Then I got into the westbound flow of Route 17 and memories flowed. The Blue Dolphin diner in Endicott, owe go where Mary was ordained deacon and then priest. The failed race track that is now a casino. The Exit 61 sign for Waverly/Sayre which we took many a time. I thought I could see our old house – probably the nicest we ever had – up on the hill overlooking town.
Then west of Waverly, the highway slides in Pennsylvania for a tiny distance and I recalled paddling both the Chemung and Susquehanna rivers in my canoe racing days.
About Elmira, the rain hit pretty heavy. I had stopped earlier to check the radar and knew that it was likely a short stretch, and so it was. Of course, I'm still learning the van systems and had quite a time finding out how to defog the windshield.
This part of the trip reminded me of the long drive Mary would make each week to finish seminary in Rochester. And as I passed the sign for Elmira Heights, I remembered how the church there stiffed her for the required contributions to the church pension fund and essentially just said "tough luck" afterward. And they'll know that we are Christians by our love…..
We stopped mid-afternoon, after nine and a half hours enroute, at a big state park near Salamanca called Allegheny State Park. It was 80 degrees and muggy so I opted for an electric site and we have been running the air. The place has a number of families with young children and most are in tents. We are getting a shower as I write and kids are still riding the camp road on their bikes. Well, it's really coming down now. I feel a bit smug, and snug, in my rig.
Penny and I took a nice walk before supper, hearing and seeing lots of warblers. Lots of redstarts and yellow warblers. I watched a song sparrow use the little brook as his personal bird bath.
Here's Penny admiring the pretty lake.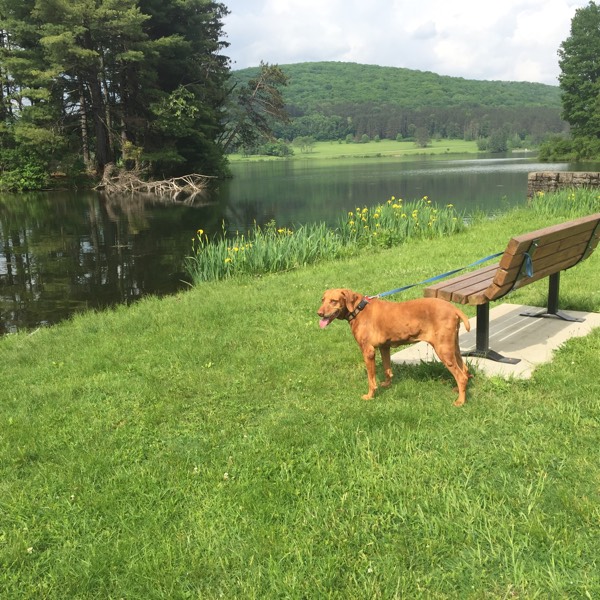 Tomorrow is about six hours to Rich and Lydda's – I'm really looking forward to seeing them.