On Saturday morning, I joined a dozen other birders for a "woods" bird walk led by Judy and Larry Geiger from Wyoming. I have known these folks for years – Larry is a "pokey" who birds very slowly and really prefers to sit and let birds come to him. Every morning as I walk Penny past their campsite (which is adorned with feeders, water sprays, brush piles..) I'll see Larry sitting in camo clothing in his chair, binoculars and camera at the ready, armed with his coffee and a hand-rolled cigarette, waiting. He sees a lot of stuff before most of us are up and about.
Judy, on the other hand, is a walker, and birds at a pretty good pace, usually instructing as she does. They are a great team who let birders identify sightings by field marks rather than shouting out, "There's an Indigo Bunting."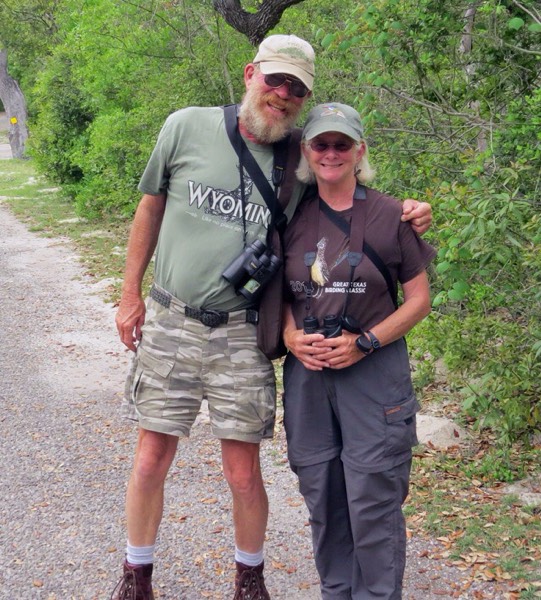 Saturday's walk was rather routine until we visited the park feeding station. Nothing was moving in except the usual suspects and some of us were getting antsy to move on but the leaders dawdled, waiting. Then someone spotted something with yellow, always a good omen, and we were on to a Black-throated Green warbler – and then someone said, there are two birds – and sure enough, a gorgeous Yellow-throated Warbler was also flitting about. Most of us got good looks and then, as warbler do, they were gone. After a wait, we moved on psyched to have such a neat start.
We had ambled only a hundred yards, still chatting about the warblers, when Larry said, "I've got a great bird here. Hopefuly, he'll sing, he's way back in the understory." As we scrambled, he was talKing about "rain crow" and some other stuff and I had no idea what we were looking for. Suddenly, others spotted it, telling which way it was moving …I still couldn't see anything. Then the Yellow-billed Cuckoo moved a little more into the clear and then we spent the next fifteen minutes watching it actively feed on caterpillars in the dense foliage. Photos were tough to get – this was the best I could get.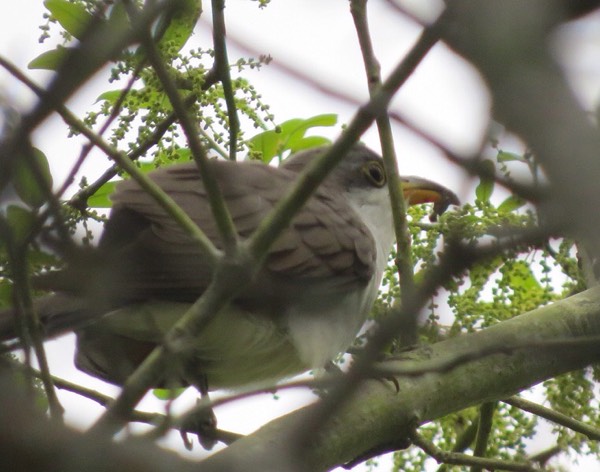 We asked Larry how he ever spotted the bird which was so well hidden and he said that he had spotted the tail, knew that only cuckoos had tails like that, etc. I could have walked down that park road hundreds of times and unless the bird was calling, would have missed it. It was nice to find out later that it was life bird #422 for me. Thanks, Larry.