August   Preliminary Planning    I was watching the clock on my computer, waiting to try to reserve a site for our February visit to San Diego, as the February sites opened up at 8:00 AM August 1st (11:00 EDT). I knew that the South Carlsbad State Park was closing for repairs in mid-February so had planned a week's stay just ahead of that closure date. What I did not know was that much of the park was already closed and that very few sites were open.
As 11:00 clicked on, I counted to ten and loaded a page I had pretty much ready-to-go but could not find any sites in the area we had stayed before. There were only about 30 sites available and as I selected one and hit return, it would be gone. I lost about five along the beachside this way and soon only a couple on the opposite side of the road were available. I got one and locked it in and took a deep breath.  I had heard of folks fighting for Florida sites as soon as they became available but had not run into this before — too much tension but ten minutes later all were booked and I felt fortunate to get one.
It turns out that California has a restriction that you can not reserve a campsite more that seven months away. New Mexico has a six-month restriction. Most other states we visit do not.
I have locked in a couple of weeks at Patagonia Lake State Park in Arizona prior to our California visit and then about ten days at Anza-Borrego Desert State Park after we leave Carlsbad.
We wanted to get back to Arizona for birding and see the kids in San Diego so that formed the backbone of our first half. Then we need to ride out Texas school spring break which ties up their parks and hopefully visit our Ohio gang on the way home. The trip is pretty much planned (Mapquest routes, spreadsheets, some reservations) leaving in early January and returning in mid-April but very well may change. It's nice to have a game plan and to have locked in those crucial California dates. Stay tuned.
Late October      2016 Trip – Westbound Portion  As I  noted a while back, I've been doing some trip planning and locking in some reservations in parks that fill up fast. The initial half of our trip is to do some birding in Arizona and visit our son Robb and his family in San Diego. It's a long haul but here is the plan: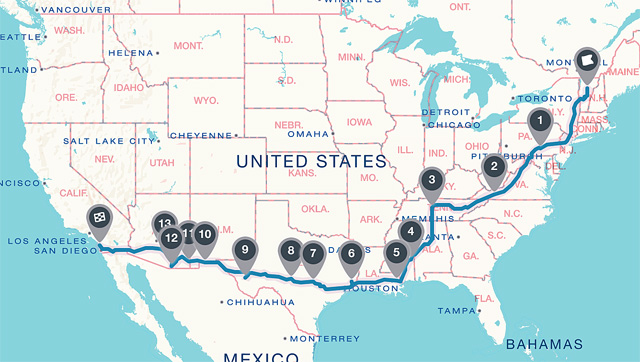 Here's how it looks in a spreadsheet:
Getting home we have to deal with Texas Spring Break in March and will likely change this schedule along the way. We hope to stop in Ohio to see our son Rich and his family. Still a few things to sort out and it will be ready to go.
Late October – Part 2
I remember sitting beside the Pacific Ocean a couple of years ago, watching surfers, seabirds, and our grandkids cavorting, and thinking "We've got nearly four thousand miles to drive back but this makes it worth it." Well, God-willing, we'll have that same situation in a few months.
We'll mosey back, staying for some lengthy stays at some favorite birding state parks, and try to visit some friends and family along the way. We'll hunker down at Falcon State Park on the border during part of Texas spring break since that park is not overrun like so many of them. We like kids but hundreds unleashed at the same time can be challenging. I should mention that the maps are developed on a neat website: Roadtrippers.com. Here's how the map looks at this point.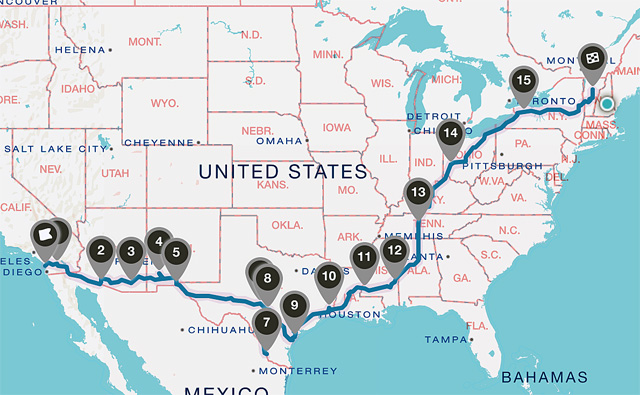 And the blow by blow itinerary.