Back at Balmoreah State Park, I wrote about our string of calamities and promised to provide an update on our malfunctioning refrigerator. Here's the update: it's dead and probably needs a complete replacement. Got ice?
It began about the day, weeks back, when Mary bought a lovely group of yellow tulips for the Airstream. Even in their coffee mug holder, they were lovely until they began to emit a strong odor. We put up with it for a couple of days but then ditched them – but even wrapped in plastic, they smelled.
It wasn't until later, in Lost Maples SNA, when I had a fellow camper, who has done a lot of rv fixing, take a look at the refrigerator unit. Since I had no power to the unit, he was going to check electrical circuits. He took one look at the scene shown below, noticing the yellow stain and the still-lingering smell of "tulips," when he said, "Your unit has corroded and all the ammonia is gone. It's dead."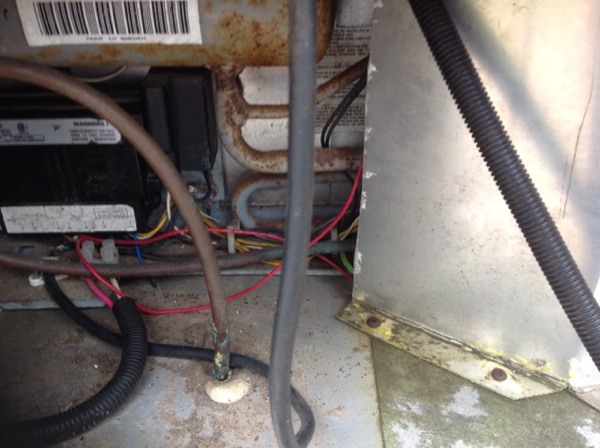 We discussed options which included:
*replace coolimg system with an Amish-overhauled unit. (He had done this with his and felt it was still penny-wise etc since you still had 15 year-old circuit boards.
*find a big RV outfit in San Antonio or Houston and see if they could install a new one.
*limp home and get a local rv outfit to do the work
*limp home and replace it yourself
I had an email exchange with my brother who has a lot of Airstream experience ans am leaning toward enlisting his brains and brawn and do it in Vermont. In the meantime we have a plan which is working.
We had no cooler with us so I bought one in the first Walmart we came to after Lost Maples – about 60 miles away. We used that, and the refrigerator, with ice.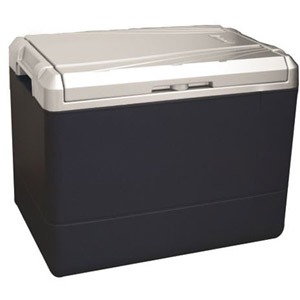 Then, once at Goose Island, I found a cooler that runs on 12 volt power and so far, is doing well. (Friends have said that they burn out, don't work well, but all it has to do is last three weeks more.)
We are at a place with $.99 ice so it's only costing a buck every two days. We have quickly learned to buy less perishables, and shop more frequently. We miss the ice cream and have fond memories of the nearly-thawed pints of Ben & Jerry's we had to trash, after stuffing ourselves, when the unit died.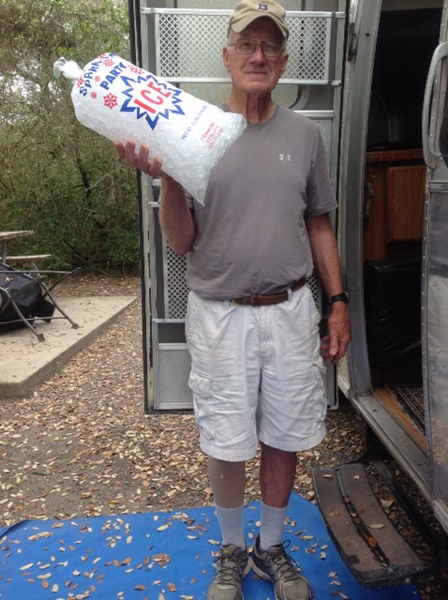 I'm tempted, in the Vermonter way, to loosen the damn thing up and kick it out the Airstream door on a back southern road and keep driving. Thinking more rationally, I'll end up hauling it a thousand more miles to East Montpelier, pay the disposal fee, and stay out of southern jails.