Leaving Wyoming, I drove into increasing temperatures and after a long trip, camped in a state park in Utah where it was hot and dusty and 103 degrees when I arrived. Fortunately, the power was sufficient to run the rig's air conditioner but it took a long time to cool things off after baking all day. It's the hottest I've ever camped – the nighttime low got all the way down to 90.
I had anticipated these issues and had made a reservation the next night at a dog-friendly La Quinta motel in Las Vegas. The trip there was brutal – temperatures kept rising as I headed west, 105, then 110, then even higher. It peaked at 118 in Arizona and I saw highway workers spreading asphalt by hand in those temperatures. I kept checking my van's engine readings but they stayed ok. It was 116 degrees in the parking lot of the motel: it felt like the blast that you get when you open an oven door.
The motel was chilly and after a good rest, we headed south toward Del Mar. The only Las Vegas things I saw, including a Trump hotel, was from I-15. The temperatures were still high, around 100, the whole trip until I got about five miles from Robb and Mary's house where the sea breeze dropped things to about 78. We were met with this welcoming sign.
The backyard pool was inviting and it was not long before I was in it with the grandkids. Penny found some lizards in the bushes and kept busy stalking them.
Thursday we hit the beach for a while. Del Mar has a dog beach sectioned off so Penny enjoyed walking through the cool water. She has not had much oven time and doesn't quite get the wave picture. The kids had a blast with their boogie boards.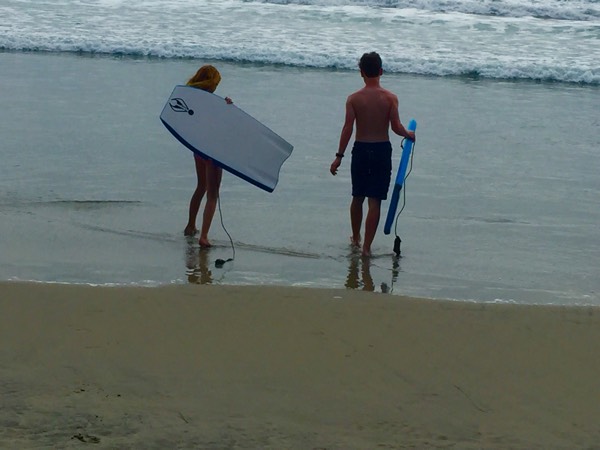 I have the Interstate parked in the driveway with some ramps to level it a bit. It's working out fine and is of course something I never could have done with the trailer. Dane and I launch for a camping trip in Sequoia National Park on Monday.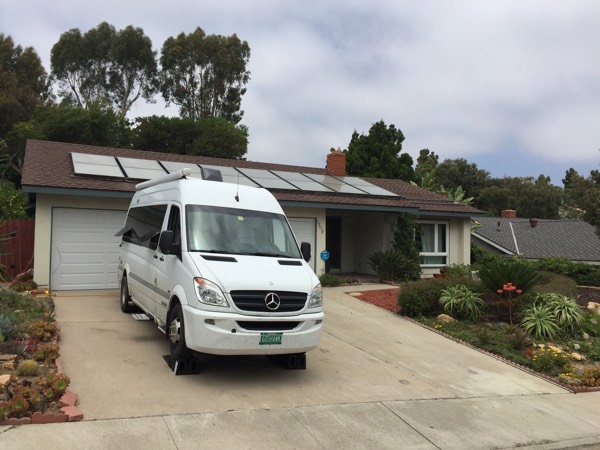 The birding here has been good and I have seen some new birds. Once I download the photos and see what I have, I'll share it with you. Have a good weekend.