On our first night at Winhall Brook Campground, a crisp fall temperature taxed our puny electric heater so we cranked up the radiant heater in the early morning to take off the chill. Penny loves it; she curls up right in front of the heater, toasting herself.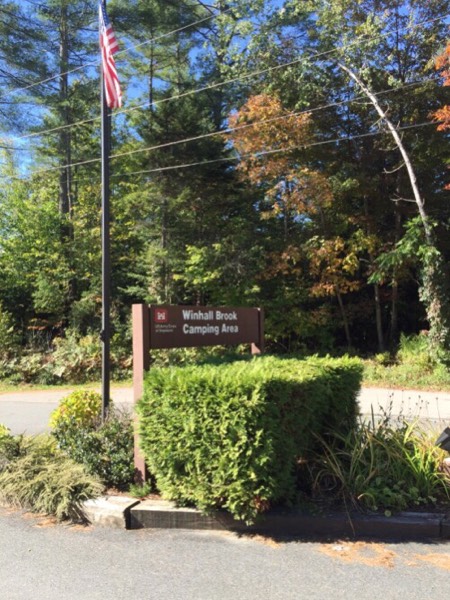 After a morning walk ( Broadwing Hawk and Winter Wren best birds), I sat in the sun outside the welcome center checking emails and blogs.
There was a lot of turnover in the loop today with three big rigs showing up. Foliage season is starting to attract many visitors. The colors are improving each day.
We took a mid-day drive a few miles up to the local cemetery where my Dad and Mom, and both my Pearson grandparents are buried. It is a beautiful site with a view of Glebe Mountain and a number of maples starting to show brilliant orange and red. Mary and I weeded and cleaned up around the gravestone – it was a good visit. Many of my aunts and uncles are buried there as well.
After fueling the truck in Londonderry, we bought a Vermont Apple pie and some local ice cream for supper.
Last night, we had a delightful young couple from North Carolina over for dinner. It was simple: salad, spaghetti with meat sauce, bread, apple pie and ice cream. We never socialize but this was fun: they are tent-camping for three weeks around the Northeast and in the midst of car problems so this was a nice break for them.
I checked out the north loop this morning (Red-eyed Vireo, Gray Catbirds) which was empty. There are some excellent lean-to sites along the brook and the West River. I wasn't impressed by any of the RV sites although some looked fine. There are no hookups on the North loop but a clean restroom, nice playground, and an attractive pavilion.
We have showers in the forecast today and serious weather system hitting later on. At first, we planned to  just hunker down and read – and be glad that we are not tent-camping in the wet. Been there, done that.
Taking a closer look at the forecast once we found 4G coverage, we decided to hook up and headed home early rather than slog home tomorrow in heavy rain. We'll definitely be back.