Yesterday morning, after seeing some Black Scoters on a local reservoir, I drove up to Lamoille County to try my luck there. I saw six male Hoodies on a small pond beside the road which seemed to bode well for the birding up ahead. Well, not exactly.
I pulled into the boat launch area at the south end of Lake Elmore, my usual first stop, and saw that the stiff wind had the water pretty roiled up. Scanning from the truck, I saw a line of Canada Geese hunkering down in the tall grass on the far side. I thought I saw some ducks also so I hopped out into the breeze and set up my scope and started quickly scanning through the six or eight geese, looking for something different like a Snow Goose. Here's what I saw: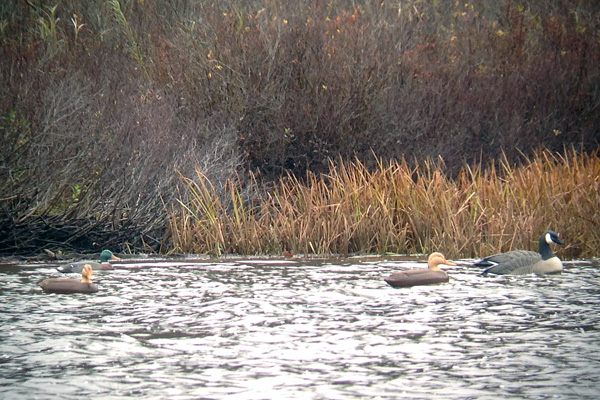 I then looked at the ducks thinking, "That's a female Mallard – no it's not." Then I saw the male Mallard and realized that these weren't ducks, they were decoys.
I swung the scope up lake and scanned everything else and then heard a couple of "wank, wank" calls from the decoy area. Figuring that a hunter was trying to yank my chain, I looked once more and saw a small camoflauged shelter in the reeds. I gave a wave and headed out, a bit chagrined but a little wiser.
I don't monitor hunting seasons (obviously) and since we have limited waterfowl activity midstate, you don't hear a lot of shooting or seeing hunting activity. I mainly worry about deer season.
We had a good morning although nothing unusual – it was just good to be out with the dog between rain showers. I stopped on the way home and grabbed a few shots of the decoys to illustrate this post. It is funny how obvious they are once you know they are decoys – but at first glance with a shaky scope…. That's why they work for hunters.
The lesson of the day – if the birds are staying put in your scope they are probably not just being cooperative, they are probably tethered.