We survived the last several days of intensive tractor-trailer rasslin' on I-81 and after a real long drive got to the saner roads of Vermont. We dropped the trailer downtown at Shawn & Helen's (which will work great) and came home to snowbanks and mud, and our home base. We're catching up on rest and doing some unpacking but every night, I wake up and wonder where I am – which park? what route tomorrow? It's wonderful to be grounded.
So we outpaced the warblers that confused me in Texas, Louisiana, and Mississippi and I've got a week or two to review their calls again. Meanwhile, I've started checking out our Vermont birds since some of the winter folks (Purple Finches) are still around and new arrivals (Eastern Phoebe) are showing up each day.
This morning, I took the dog in the truck on an outing to check out some back roads in an adjacent county. About six miles into the trip, I came up to this old barn on Route 12 and automatically checked the fields. I glimpsed a hay wagon with some sort of white contraption on it, and after I passed the barn and moved down the highway hill, saw this: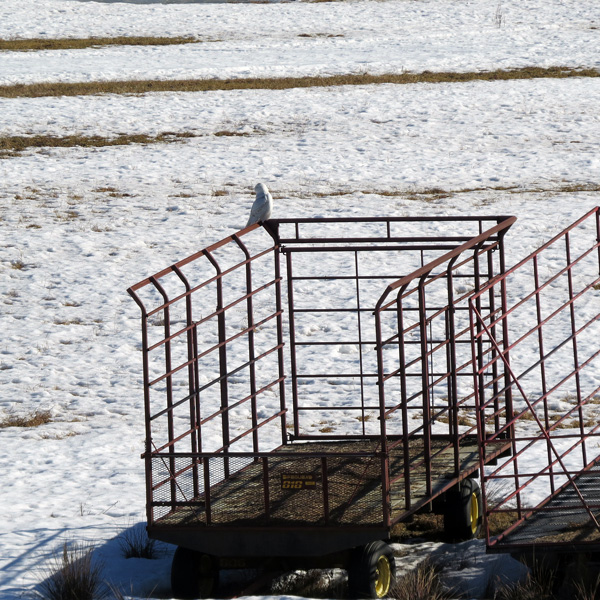 I
I thought Snowy Owls had left but sure enough … I had traffic to deal with but dodging a trash pickup truck and commuters, got turned around and took a few pictures out the window. I then backtracked, turned around again, and parked in the farm's muddy turnoff.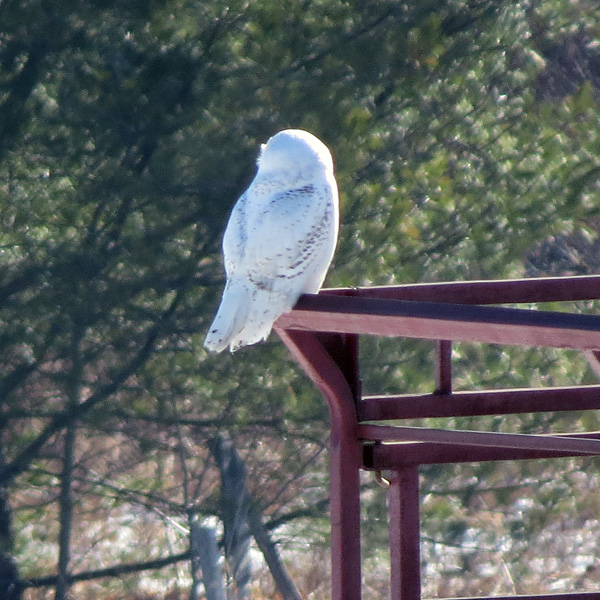 When I returned a few hours later, it was gone. I heard from Chip at North Branch Nature Center that they seem to be moving – reports are trickling in – perhaps as a result of the warm weather we are experiencing. It was a great start to the birding trip and added a Snowy to my year's list. Who knows when they'll be back again like this winter? Vermont birding rocks!