It's a place we would normally drive by, not being adventurous eaters. A tired-looking building on a wind-swept curve in the highway, parking lot filled with muddy pickup trucks, Crofutt's is an area attraction, known for its monstrous hamburgers, shrimp po-boys, and cinnamon rolls to die for. We were told about this place four years ago and try to make the trek each time we are at Goose Island.
The shop has been in business for half a century or more and the walls are lined with pictures from the past. They make it on their food, not their ambiance. My kind of place.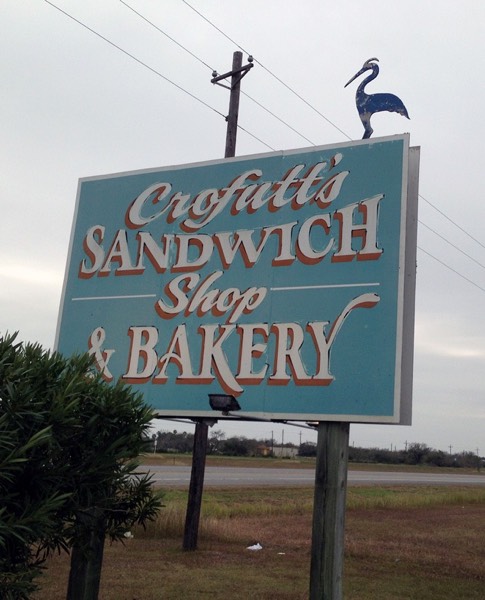 Mary and I were the only ones in the place not wearing muddy leather boots. Guys working on ranches or oil/gas rigs flock to this place – a mixture of Hispanic and Anglo, and most were built like guards for the Dallas Cowboys.
We ordered Shrimp Po-Boys and as we waited, listened to the Texas twangs and the banter of the waitresses. It was obvious that most were locals – I suspect we were the only visitors (although they get many.)
The sandwiches are big and they are good – well worth the drive. We bought a package of cinnamon rolls and loaf of pumpkin bread – because we could.
We did a little back road birding on the way home and after a rest, I took Penny on an hour and a half walk. I don't know if she needed it, but I did.