For several years I have been taking photographs of birder license plates, starting with a couple here in Vermont. I have written about birder plates in a number of blog posts and they have a spot of their own on the web site. It got me thinking of what would I choose for a name if I decided to get one — and during our last SW trip, I started a little list of seven-word birder-related words — and then lost the list. A few months ago, I began again, hampered by the fact that the state does not have, to my searching, an online listing of taken names.
I'm not quite sure why, but I settled on Goshawk as my first choice. The pilot in me likes the soaring, hunting nature of hawks (Buzzards aka Turkey Vultures also are wonderful soarers but ….) and I've not yet seen a Northern Goshawk in my travels — so I submitted it. I figured I'd see a Goshawk every time I went birding with the truck and perhaps that would be the charm.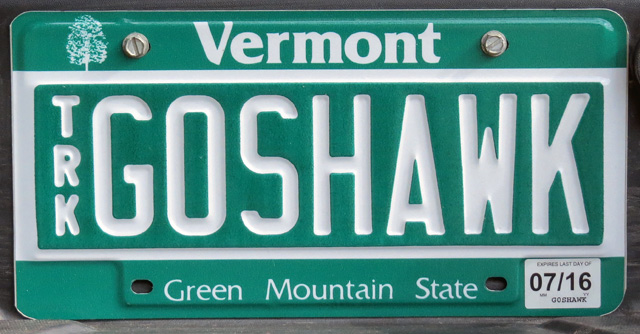 So I didn't know until the plates arrived yesterday whether I had gotten my choice. I'm a little undecided; I'm really not a vanity plate guy. The only one I've ever had was very prized — CFI — for certificated flight instructor back in the '70's.
We'll give this a try for a year and see how it feels — and if it brings me luck. Plus, it gives me another plate photo for my collection. Good birding.